Julianna Margulies Studied Political Sex Scandals For Role On 'The Good Wife'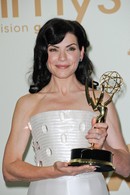 Actress Julianna Margulies studied the fall-out from real-life political scandals to perfect her scorned spouse role in hit TV drama The Good Wife.

In the Emmy Award-winning series, Margulies plays Alicia Florrick, a lawyer and mom-of-two who is humiliated when her husband, portrayed by Chris Noth, is sentenced to jail following a sex and corruption scandal.

And the former ER star reveals she did her best to get into character by studying Silda Spitzer, Hillary Clinton and Elizabeth Edwards, all of whom were betrayed by their politician partners and tasked with the decision of whether or not to stand by their men.

She tells More magazine, "I went online and looked at all the wives - pictures of them before and after. (Silda) aged 10 years. But then a few months later, she was in (fashion magazine) Vogue, she had a job, she never looked better."

And Margulies admits she also soaked up all the post-scandal press conference coverage to watch how the females acted as their husbands confessed to wrongdoing.

She says, "I remember thinking, 'Get off the stage!' I couldn't believe the women were gullible enough to get up there, and I couldn't believe that the men could be such a**holes as to ask. I don't know if I could do it, because I think I'd be playing (the betrayal) in my head the whole time."

But the star's extensive research paid off - Margulies reveals network bosses at CBS received a letter from Edwards shortly before her recent death, praising the 45 year old for her accurate depiction.

She adds, "I'm sure none of them have watched it. Why would they? It's salt on the wound... but apparently Elizabeth Edwards reached out to CBS to tell them she thought I was portraying Alicia in the right light."