Julia Stiles Makes Versatile Return To WIGS With 'Blue' And 'Paloma'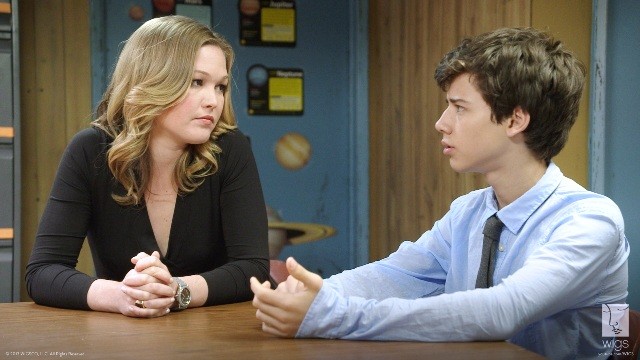 Julia Stiles charmed America in 10 Things I Hate About You and has continued to win audiences over ever since. She's outdone herself as the title character in the award-winning WIGS web series Blue, which was recently renewed for a 26-episode second season that debuts on the WIGS YouTube channel Friday. Julia also moved behind the camera to write and direct her own WIGS series, Paloma, which is set to debut later this spring. She recently took time out of her busy schedule to chat with BFTV about what's ahead on Blue, the making of Paloma, and if she might return to Dexter.
"It was the very first scene that [writer-director] Rodrigo [Garcia] ever wrote that caught my attention," she said of what drew her to Blue, the fan-favorite series in which she plays a single mother who is also an upscale escort. "It just summed up to me what's interesting in follwoing a woman who leads this sort of double life. It all became too difficult for her to manage in that first scene where the client recognized her from high school. There's a certain amount of tension that you feel.
"I also really liked the idea of approaching the subject of a woman working as a call girl from many different angles," she continued. "Rodrigo focuses on Blue as a mother, as a daughter, as a friend. Psychologically, it was just really compelling to me. And to be able to really delve into a character for that amount of time - seasons one and two amount to almost the length of two films."
As far as what's ahead in the second season, "There'll be some returning characters," revealed Julia. "I think you see Blue unravel a little bit more. She's not quite as good at balancing everything, particularly emotionally. It also struck me as somewhat humorous." Season two also features a supporting cast including Mark Consuelos (All My Children), Kathleen Quinlan (Apollo 13) and James Morrison (24).
Yet it's Stiles who is deservedly front and center, imbuing Blue with tremendous heart and palpable emotion as she navigates conflicts between her career choice and the rest of her life. Not only have audiences responded to her character, but the web series was cited by actor Jason Isaacs in his interview as one of the examples of the "human drama" that WIGS has become known for.
The first seven episodes of Blue's second season will be released this Friday, with later installments on subsequent Fridays through April 5. Check out an exclusive clip from the second season of Blue below. WARNING: Clip contains nudity and sexual content.