Julia Roberts' Twins Won't See 'Mirror Mirror,' Or Any Other Movie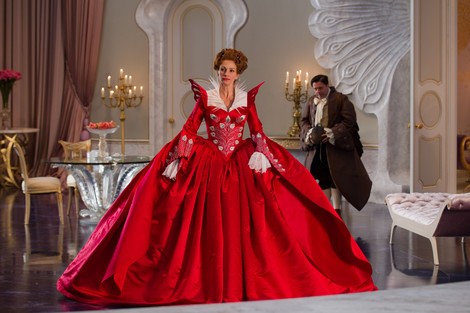 Julia Roberts stars as the evil queen in this week's Snow White movie Mirror Mirror. The mother of three was happy to be involved in a family film, although she told the press she has no plans to show her children the movie because they are too young.
"I think they are considering the part that I play," Roberts said.
Her twins would be eight and her son five, but they have strict rules for movies and television in the Roberts home anyway. "We have a pretty rigid viewing feeling in our house. We're more book people in our house. I mean, we'll find our time that'll be happy and joyous for us to share that all together but it probably isn't in two weeks."
It may seem ironic that a woman who makes her living on the screen discourages her own family from enjoying filmed entertainment. Roberts illuminated her feelings a bit further.
"Those nice cozy very short hours before bed, we just really spend together as a family talking and sharing the day and reading books. Really before you know it, it is time for bed. Part of it is there's just not time for that. We would prefer something different in that time during the week. They do get to watch. I love movies obviously. I love a great deal of television. I was raised on television but for us we just feel there's a real time and a place for it certainly. I don't think it's that mysterious really and it's nice that it opens up other options, stories and poetry and talking, sharing ideas."
You can see Mirror Mirror this Friday.