Julia Roberts Talks About Her Role In HBO's 'The Normal Heart'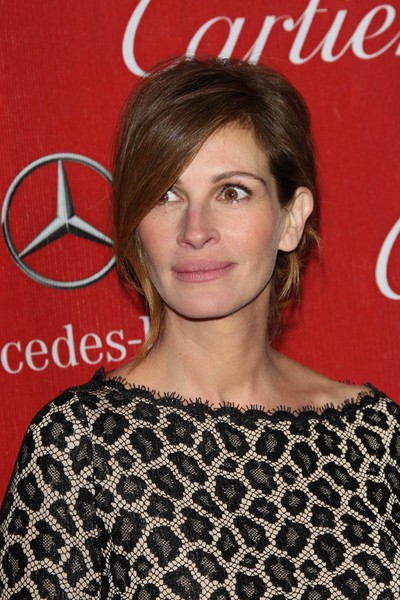 The cast of HBO's upcoming movie The Normal Heart met the Television Critics Association on Thursday. Based on the play by Larry Kramer, it tells the story of the beginning of the AIDS epidemic from the point of view Ned Weeks (Mark Ruffalo), a gay activist raising awareness about the then unknown disease afflicting, at that time, predominantly gay men. Roberts plays Dr. Emma Brookner, a polio survivor fighting for the medical community to study this disease. 
Roberts initially thought she couldn't play Brookner, until director Ryan Murphy, with whom she worked on Eat Pray Love, convinced her. "Interestingly enough, my relationship with Ryan has provided me an incredible education," Roberts said. "This was another stone on that path we shared together. I've been asked twice before to play this part. Not only because of just conflict of time but my inability to fully understand who this character was, when Ryan asked me to play this character, and I said no, I didn't think he heard me. So I was like, 'I don't think I can.' He just said, 'Well, call me back.' I thought let me just ruminate about it a little bit."
In the time spent considering the role, it was further research into Brookner's condition that gave Roberts the key. "I ended up watching a documentary on polio, which I'm too young to remember what that experience was like for the world," she said. "It unlocked the door to who this woman is to me and where her ferocious, relentless pursuit of correctness comes from. It was just such a beautiful experience to get to play her and get to play tribute to a person who never let anything stand between her and the right thing to do for someone else." 
Characters in The Normal Heart are based on people from Kramer's life, and their struggles as relevant today and in the future as they ever were. "I think one of the great elements of any good conversation is to find a commonality with people that you don't know and find a oneness that really does travel from each of us to the next of us, no matter what you believe is your higher purpose or calling," Roberts said. "That the thread really does connect us all. If we are connected by a true thread, it's impossible physically to turn your back on somebody. That's the real point of storytelling is to nurture that idea. This movie does it in such a profound way, because it's dealing with a moment that's so desperate and mysterious. We as a humanity failed each other in that time and that's always a great reminder to do better and to stay together."
The Normal Heart premieres in the Spring on HBO.