Julia Roberts Just Couldn't Be Mean, Says 'Snow White' Director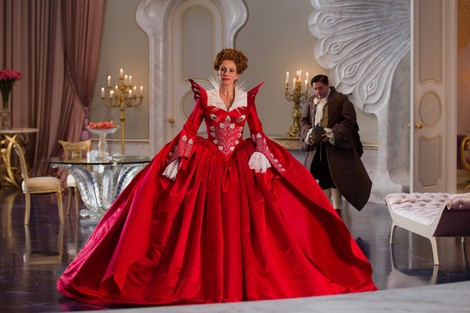 In one of the competing Snow White film projects, Julia Roberts plays the evil queen to Lily Collins' Snow White. America's Sweetheart will have to be the ultimate fairy tale villain, but director Tarsem Singh said it just didn't come naturally to the Pretty Woman.
"No, actually she would play this person and completely come down," Singh said. "She would be really mean to Lily and I remember every time I turned around, she said, 'That's like being nasty to Bambi. You just can't do it.' So people deal with it differently."
Singh just finished working with Mickey Rourke on Immortals. When Rourke played the evil king Hyperion of Greek myth, he went all the way. "A person like Mickey would be like, 'I think Bambi steak would be good.' Deal with different things differently. There's just a certain amount of crawliness that comes into a guy like that who can't see very well, he's not wearing any glasses, he's got a contact in one eye and you've given him a spear and he's holding it next to a girl's eye. Just like having a child on set, a very big child."
Snow White is due out next year. Immortals opens November 11.