Julia Louis-Dreyfus Goes Nude For Rolling Stone, Magazine Adds John Hancock's Signature To Her US Constitution Tattoo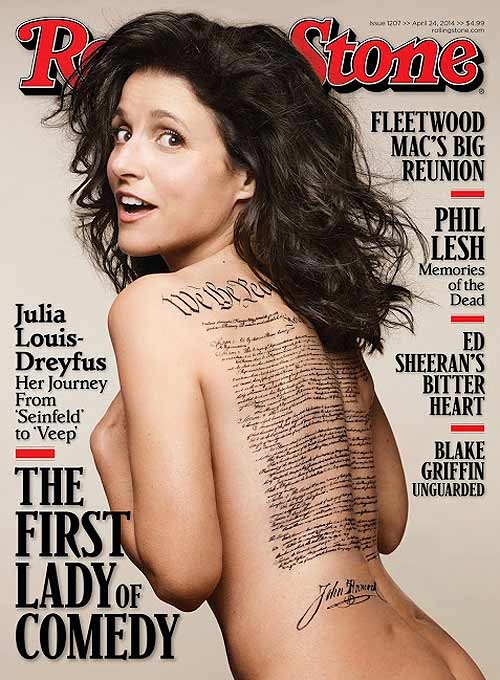 Actress Julia Louis-Dreyfus bares all on the cover of the new issue of Rolling Stone magazine, but it's not the Veep star in her birthday suit that's got our attention.
The editors of the magazine depicted Louis-Dreyfus with a giant tattoo of the United States Constitution on her back and added some unnecessary ink in the form of John Hancock's signature. Only thing is -- John Hancock didn't sign the Constitution, he signed the Declaration of Independence.
"Hancock signed Dec. of Independence NOT Constitution.Yet another Mike f**k-up.Dummy," the actress wrote on her Twitter page after catching the gaffe.

Julia talks about all the cursing she does on "Veep" in the new issue, which hits stands on Friday, revealing that coming up with the language she uses on the show has quickly become a big part of her life.

"Once, when we were trying to come up with the particular perfect, horrible, swear-y thing to say in 'Veep,' I said, 'You do realize that if we were 12, we would get in big trouble for this conversation,'" she says.
"That was not part of the curriculum in high school, and the fact that it is now a part of the curriculum of my life is a please, which is the understatement of the universe."