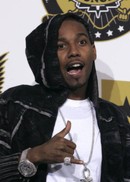 Rapper Juelz Santana was arrested earlier this week after he allegedly refused to let cops search his car.

The hip-hop star was taken into custody in New Jersey on suspicion of making threats and disorderly conduct after he allegedly refused to allow police officers access to his luxury Bentley, which they later impounded, according to TMZ.com.

He was released several hours later on $46,500 bail.

In a series of posts on his Twitter.com page on Friday, he told fans about the arrest, writing, "Police impounded my Bentley so I guess I gotta bring the rose out! F**k they thought that was my only car lol (laugh out loud).

"My car was parked an (and) they asked to search it. An (and) I said no. So they locked me up an said will get a judge search warrant."