Judith Owen To Release New Album, 'Mopping Up Karma,' June 3; Tour Begins April 23

Judith Owen
has relentlessly followed her muse, independently releasing recordings that have captivated fans, Hollywood music supervisors, fellow artists and the most discerning critics.
With the same determination she has applied to finding her voice, she has also found her audience, in spite of the widespread downturn of the music industry. And in the very years in which that decline is at its most intense, Owen has not just withstood the circumstances, but reached the peak of her creativity and become one of the most acclaimed artists in her field. She culminates this extraordinary rise with
Mopping Up Karma
, which Courgette Records releases June 3.
As she puts the finishing touches on it, the album is turning out to be the best document yet of her singular artistry. She released a first single from the album, "Let's Hear It for Love," February 12 via various download services and digital retailers.
Mydamnchannel.com
debuted a video for the song. Courgette will release one more single in advance of the full album: "Creatures of Habit," on May 6.
The seeds of
Mopping Up Karma
lie in a set of recordings that were going to be Owen's major label debut when she was signed to Capitol ten years ago and nearly left to languish as the company's presidency changed hands. She is substantially transforming the songs-newly recording vocals, re-mixing tracks, and more-for the forthcoming album.
It is a particularly timely triumph that Owen is completing and will release these songs now that she has garnered such immense acclaim on her own. She was inspired to bring the material to fruition for
Mopping Up Karma
when she recently listened to the songs the first time in years and was struck by how good they were. She had begun them in 1998 for an album she was making with Glen Ballard, whose discovery of Owen performing in the Hollywood club Luna Park led to her signing by the Capitol boutique label Java Records. Setting out to make her first album for the label, Owen began writing and recording with Clifton Magness (
Avril Lavigne
) and Ballard, both of whom co-wrote, engineered, produced and played on various tracks. Owen wrote the lyrics and the bulk of the music, and supplied all of the vocals, piano and keyboard parts (organ/strings). The original recordings also featured contributions from such eminent musicians as Benmont Tench (
Tom Petty and The Heartbreakers
), who played Hammond organ, and David Campbell (
Alanis Morissette
,
The Goo Goo Dolls
), who provided orchestrations.
Mopping Up Karma
is the follow-up to Owen's
Happy This Way
, which has earned rave reviews and profiles from the likes of
The New York Times, The Los Angeles Times, The Washington Post, MORE
and
The Boston Globe,
among many others.
USA Today
calls it "a gem." In connection with the album, Owen was recently featured "Live in Studio 4A" on NPR's Weekend Edition Sunday, as well on PRI's "The World" and in two consecutive appearances on the KTLA Morning Show, among other radio and television appearances nationwide. Owen's previous album, Here, led to her discovery by NBC's "Today Show."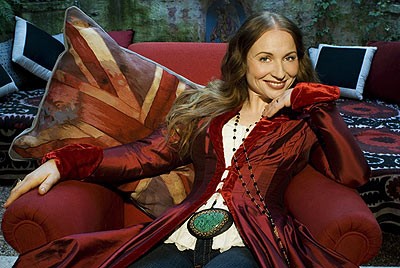 Owen has been especially praised for her live performances. Stephen Holden's review in
The New York Times
said she, "showed how much color and sonic depth can be extracted out of a single keyboard." She garnered tremendous praise on a U.S. tour she just completed with her frequent collaborator, Richard Thompson, singing in his 1,000 Years of Popular Music show. The Washington Post called Owen's performance "amazing," and
The Boston Herald
said she "nearly stole the show."
The Milwaukee Journal Sentinel
called Owen "as wildly versatile a singer as Thompson is a guitarist."
Owen will tour the U.S. this spring and summer, including several dates supporting
The Strawbs
. Her performances will feature material from the new album in addition to favorites from her celebrated body of work. What follows is an itinerary of upcoming engagements; others will be announced soon.
Judith Owen Tour Dates
April 23, 2008 San Diego, CA Lestat's
May 11, 2008 Monterey, CA Monterey Live
May 12, 2008 Fenton, CA Don Quixote's
May 29, 2008 Seattle, WA The Triple Door
June 10, 2008 New York, NY BB King's
June 11, 2008 Sellersville, PA Sellersville Theater
June 13, 2008 Brownfield, ME Stone Mountain Arts Center
June 17, 2008 Chicago, IL The Abbey
June 18, 2008 Milwaukee, WI Shank Hall
June 20, 2008 Springfield, IL Hoogland Center for the Arts
June 21, 2008 Fairmount, IL Sleepy Creek Vineyards
July 17, 2008 New Orleans, LA The Ogden Museum of Southern Art
August 6, 2008 Los Gatos, CA Jazz on the Plazz
"[Judith Owen] has been releasing records that blur the line between troubadour and chanteuse, pastoral beauty and urbane sophistication. Her songs are literate, and often melancholy, but also pithy and blunt. She's been accurately described as the female Randy Newman, but there's one big difference: Owen's voice is gorgeous. It's a phenomenally forthright instrument that whispers when necessary and wails when the moment calls for candor." -
Joan Anderman, The Boston Globe
(Named Owen's Happy This Way among the 10 Best Albums of 2007)
"Owen has the kind of wailing folk-jazz voice that slices away surfaces to touch vulnerable emotional nerve endings and leave you quivering…The fact that Owen, who was briefly signed to Capitol Records, then dropped in a management shake-up, has had to go it alone is a discouraging sign that the record industry, which 20 years ago would have snapped her up and made her a star, is in shambles." -
Stephen Holden, The New York Times