Judi Dench Honored In Czech Republic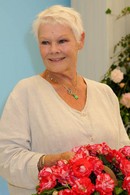 Veteran British actress Judi Dench was handed a top prize as she helped launch the Karlovy Vary film festival in the Czech Republic this week.

The Oscar-winner jetted to the city to introduce her new film Jane Eyre, which was picked to open the 46th annual international event on Friday.

She was later honored with a Crystal Globe award for her outstanding contribution to world cinema at the opening ceremony, which was also attended by Czech President Vaclav Klaus.

The Big Lebowski star John Turturro is set to be recognized with the President award at the festival, which ends on the July 9.