Judd Apatow To Be Honored CinemaCon Film Convention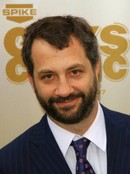 Judd Apatow's career will be celebrated at an upcoming Las Vegas film convention after he was unveiled as the recipient of an Excellence in Filmmaking award.

The director/producer will receive the prestigious prize at the annual CinemaCon convention later this month, while actor Taylor Kitsch has been named the Male Star of Tomorrow.

Praising the duo, CinemaCon managing director Mitch Neuhauser says, "Judd Apatow has written, directed and or produced many (of) this moviegoing generation's most memorable and entertaining comedies."

"Having impressed television audiences with his engrossing portrayal of a troubled Texas high school fullback in Friday Night Lights, Taylor Kitsch continues to dive into each assigned role with an incredible passion that shines through all of his work."

Other previously announced honorees at the convention include Michelle Pfeiffer (Cinema Icon), Dwayne Johnson (Action Star of the Year), Charlize Theron (Distinguished Decade of Achievement) and Josh Hutcherson (Breakthrough Performer of the Year).