Judd Apatow: His Career And Latest 'Funny People'

This Friday marks the theatrical release of "
Funny People
," the
Judd Apatow
dramedy starring
Adam Sandler
as a terminally ill stand-up comedian. As the buzz around this film has grown, fans and critics alike have wondered if Apatow, who never met a penis joke he didn't like, was making a huge mistake by veering into "serious" territory. Pretty odd, considering that one of Apatow's most loved and respected works was the TV series, "
Freaks and Geeks
," a show that beautifully walked the line between hilarity and heartbreaking realism.
Although it may seem like he came from out of nowhere to become an overnight sensation, this 41-year-old non-virgin has long been one of the hardest-working men in the funny business.
Obsessed with comedy since childhood, Long Island native Apatow was blessed with a mother who worked at a comedy club in the Hamptons - a connection that allowed him access to some of his favorite comedians, like
Steve Allen
,
Harold Ramis
, and
Jerry Seinfeld
, whom he interviewed for his high school radio program.
At 18, Apatow moved to L.A. to enroll in USC's screenwriting program. He wrote and performed as a stand-up for several years before deciding that he might have more success behind the scenes as a writer and producer. From 1991-1993, he co-produced a handful of television specials for comedians like
Jim Carrey
and
Roseanne Barr
, and executive produced friend
Ben Stiller
's short-lived FOX series.
Between 1993-1998, Apatow was a writer and producer on the
Garry Shandling
series, "
The Larry Sanders Show
," where he first tried out his directorial skills for one final season episode. During this time, he got a serious taste of box office failure when he produced Stiller's 1996 big-screen flop, "
The Cable Guy
," starring Carrey and
Matthew Broderick
. However, Apatow found a silver lining in that dark cloud of a film - he met his wife,
Leslie Mann
, on set.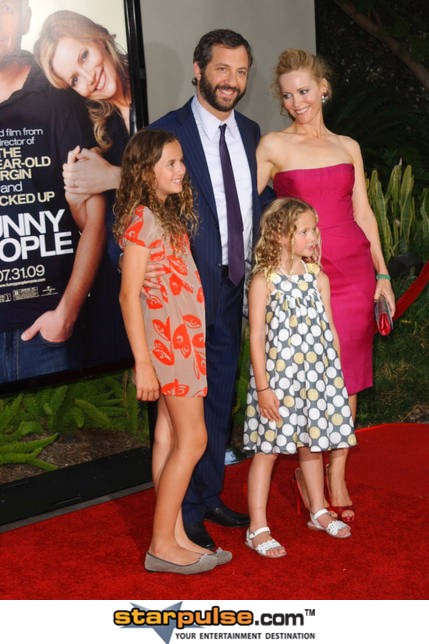 Image © PR Photos
It was as executive producer and sometime writer and director of "Freaks and Geeks" from 1999-2000 that Apatow proved himself as someone to watch. Although the show's dismal ratings caused NBC to cancel it during the first season (after only airing 12 of the 18 episodes), the brilliant series garnered much critical acclaim and a cult following that continues to grow, especially since the 2004 release of the complete season DVD set.
Apatow is also credited with jumpstarting the careers of "Freaks and Geeks" stars
James Franco
,
Jason Segel
,
Seth Rogen
, and
Linda Cardellini
. (Interestingly enough, although the series was Emmy-nominated in the Outstanding Writing category twice, it only won for Outstanding Casting.) Known for his loyalty to his actors and writers, Apatow carried Rogen, Segel, and much of the "Freaks and Geeks" cast over to his 2001 FOX series, "
Undeclared
," which also regularly featured cameos by old pals Stiller and Sandler, as well as new friends and future collaborators like
Jenna Fischer
and
Will Ferrell
.
It was the 2004 Ferrell box office hit, "
Anchorman: The Legend of Ron Burgundy
" that finally brought Apatow his first major success as a producer. And in 2005, he truly became a major Hollywood player with his feature-length directorial debut, "
The 40-Year-Old Virgin
," which he also co-wrote (with star
Steve Carell
) and produced. The movie's effortless balance of smuttiness and sweetness made it an instant smash and ushered in a new era of comedy filmmaking (and many imitators hoping to cash in on the "Apatowian" formula).
After "Virgin," it seemed that Apatow just couldn't miss, producing one hit after another, including "
Talladega Nights: The Ballad of Ricky Bobby
," "
SuperBad
," and "
Forgetting Sarah Marshall
," the latter two written by his old friends and protégés, Seth Rogen and Jason Segel, respectively. Rogen and Segel were then cast in Apatow's second directorial triumph, 2007's "
Knocked Up
," which also featured many other members of the "Ap Pack," including
Jonah Hill
,
Paul Rudd
,
Jay Baruchel
, Martin Starr,
Kristen Wiig
, Ken Jeong, and the missus,
Leslie Mann
.
However, since 2008, it seems like Apatow's fire may be cooling a bit. While "Forgetting Sarah Marshall" was hilarious and "Pineapple Express" was near brilliant, he's also thrown quite a bit of garbage at us over the past two years. Still, I doubt that uninspired junk like "
Drillbit Taylor
," "
Step Brothers
," and "
Year One
" are memorable enough to undo all of the good that he's done.
So, what do you think? Will "Funny People," Apatow's third outing as a director, kill or bomb? If you're worried that you won't like the "serious side" of him, don't. Rumor has it that he's thrown in plenty of penis jokes.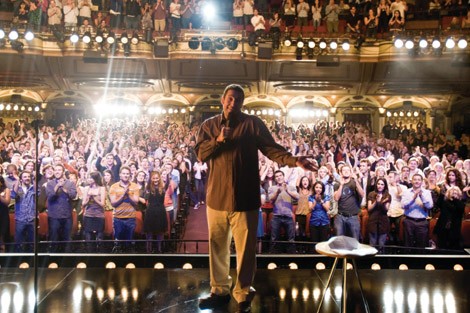 Funny People © Universal Pictures
"The Pop Eye @ Starpulse" is a column written by native Pittsburgher and current New Yorker,
Becky Broderick
. You may contact Becky directly at beckeyeam@gmail.com, or check out her other ramblings on
The Pop Eye
.