Juan Pablo Galavais, Star Of ABC's 'The Bachelor,' Defends His Decision Not To Propose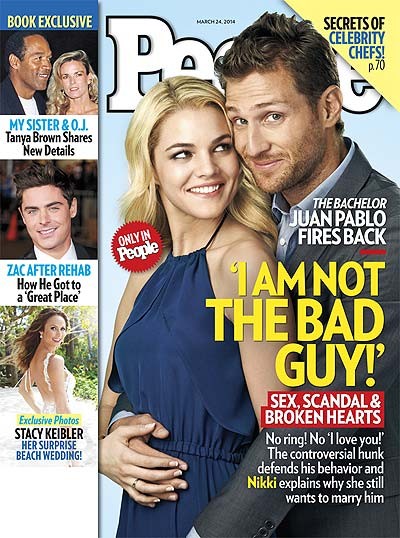 After a drama-filled season, controversial Bachelor Juan Pablo Galavis, 32, stuns viewers by opting out of the fairy-tale ending.
No ring, no "I love you." The hunk defends his behavior in this week's issue of PEOPLE, and Nikki Ferrell, 27, explains why she still wants to marry him.
His first runner-up, Clare Crawley, upon being let go after Galavis had reassured her of a possible future together, snapped, "I would never want my children having a father like you."
A frank and unapologetic Galavis and a still-smitten Ferrell are ready to defend their unlikely road to romance – and why popping the question is still the last thing on his mind.
"It was very tough for me to say goodbye to Clare," Juan Pablo tells PEOPLE, "but she made it easier with her [hostile] reaction. She was expecting me to propose, I get it, but you don't have to come at me like that. It was childish. She disappointed me. Like with Andi, we don't have to talk about what happened or didn't happen. Just go."
The new issue of People Magazine is now on newsstands everywhere.

*Also In This Week's PEOPLE:*
Exclusive Tanya Brown Book Excerpt: My Sister & O.J. Simpson
Wedding Photo Exclusive: Stacy Keibler Ties The Knot
Exclusive First Baby Photo: Soleil Moon Frye's Mommy Joy
Zac Efron After Rehab: "I've Been Blessed To Have The Opportunities I've Had
In The Kitchen With Celebrity Chefs Carla Hall & Lisa Lillien