JRAND Discusses His New Single 'Ride'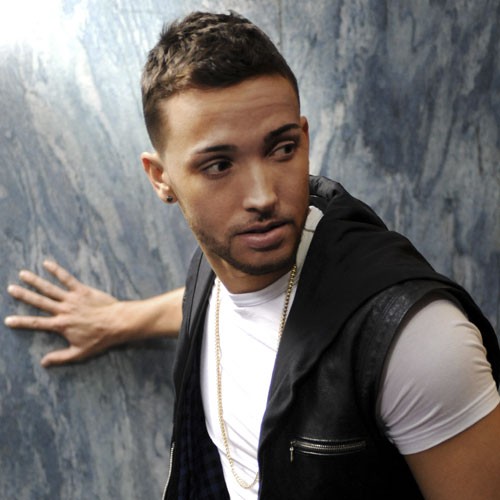 JRAND is enjoying the success of his recently released single, "Ride," featuring Flo Rida and T-Pain. The hip-hop singer-songwriter recently joined BFTV to discuss if "Ride" is the precursor to a full album - and whether or not his other passion for acting will factor into his professional future.
"It's very trippy," the Florida native said of collaborating on the single with two major names in his genre. "When we shot the video, all my friends from school came out to watch it. Flo Rida and T-Pain are coming out and high-fiving me and talkng to me. I'm never really getting used to it."
He's slowly but steadily establishing his own identity in music. The last few years have seen JRAND release several singles, including 2010's "Spirit of the Radio," which was featured on the soundtrack for the film Step Up 3D. He also previously worked with T-Pain on the 2011 track "Can't Sleep." What's the creative process that's enabled him to emerge as an artist to watch out for? As it turns out, it's nothing too complicated.
"I usually start in just my apartment on my keyboard. I just start real simple," he explained. "I try to write about personal experiences, as crazy and as funny as they can be. Then eventually I take it to a big studio and I record it. And it's crazy how an idea can become a song like 'Ride.'"
Now as 'Ride' leaves its mark, JRAND's hoping that the single will be step one toward a full record. "Of course," he said, "but right now we're just trying to build awareness so it makes sense to put out an album."
He's also carved out a modest resume as an actor, including last year's Rock of Ages and a 2007 guest appearance in the second episode of USA's hit original series Burn Notice. "I was one of the bad guys. I was beating up old ladies and talking their identities," he reflected with a laugh. "I went to an acting conservatory to kind of loosen me up and get me out of my shell as a musician, and I kind of fell in love with acting. That was just a wild experience."
He hasn't ruled out more screen work in the future, telling us, "I think I'm always going to try to simultaneously pursue both."
In fact, he's even got a third talent up his sleeve. "I have a passion for screenwriting. I wanted to be a screenwriter," he added. "I'm always constantly writing."
But for right now, JRAND's focus is on his music. He's well aware that success as a musical artist isn't a matter of just one hit single. "[At] the beginning of my career, I knew there were going to be ups and downs but I didn't realize how much it was going to fluctuate," he  explained. "There are so many times I've been so close - and then doors slam in your face. It's been such an up and down roller coaster. [But] I wouldn't change anything. I think it's humbled me and influenced my music and me as a person."
As he continues to work toward breaking out, what's he ultimately hoping to find on the other side? It's not fame or fortune, but something you can't put a price tag on.
"It's kind of ambitious to say a legacy, but a legacy that inspires somebody else to make music," said the artist, who listens to everything from Ne-Yo to Gavin DeGraw. "I'm inspired by Miami urban music, and hopefully I can kind of pave a line that would be somewhat of a style in a sense."
Check out the video for JRAND's single "Ride" featuring Flo Ride and T-Pain below.
(c)2013 Brittany Frederick. Appears at Starpulse with permission. All rights reserved. No reproduction permitted. Visit my official website and follow me on Twitter at @tvbrittanyf.