Journey To Receive 'Legend Of Live' Award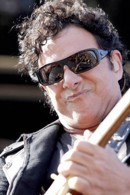 Rockers Journey are to be honored with Billboard's Legend of Live trophy at the magazine's eighth annual 2011 Touring Awards.

The accolade is given to groups or individuals who have made "significant and lasting contributions to live music and the touring business."

Previous recipients have included Rush, Ozzy Osbourne and Elton John.

Journey founder Neal Schon says, "I'm so honored."

The guitarist and his band mates will accept the award at the prize giving in New York next month.