Journey Star Emailed Pics Of His Privates To Michaele Salahi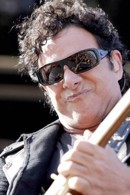 The devastated husband of Journey guitarist Neal Schon's mistress has discovered the rocker emailed her photos of his penis.
 
Tareq Salahi reported his wife Michaele missing earlier this month after she failed to return home after a day out, but it quickly became clear the reality TV star had jetted off to Tennessee to be with newlywed Schon on tour.
 
Tareq has since filed for divorce and, appearing on news show "Access Hollywood Live" on Friday, he revealed his wife's fling with Schon had been going on behind his back for years - and the rock star didn't seem to care if her husband found out.
 
He said, "I didn't know she was living this double life... We found some evidence on emails and communication for the last few years, where they've been having an affair... We're piecing it together now. Sometimes, when she was gone for her hair day and it was a 12-hour day, we're beginning to figure out some of the things that were really going on.
 
"He even sent an email (photo) of his penis... We found that the next day (after the cheating scandal went public) and then we found a slew of deleted messages through Facebook, on our joint page, talking about their love affair and sex... It was shocking."