Josh Lucas Named Best Actor At 2011 Inside Film Awards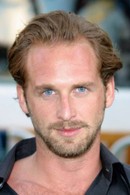 Josh Lucas has landed a top acting award for Red Dog at the 2011 Inside Film Awards in Australia.

Lucas was named Best Actor for his performance in the Australian family movie, which scooped a total of six prizes including Best Director for Kriv Stenders.

The American actor was unable to collect his prize at the Sydney ceremony due to other filming commitments, but his canine co-star Koko went in his place.

Red Dog producer Nelson Woss joked, "He (Koko) is very happy to be here, although he is a bit grumpy that the film has gained nine nominations and there isn't a single one for him."

British actress Emily Watson was also a big winner - she received the Best Actress trophy for her portrayal of a social worker in Oranges and Sunshine.