Josh Hutcherson Organizing Hometown 'Hunger Games' Premiere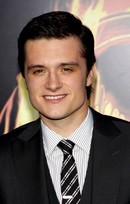 Josh Hutcherson is eager to avoid overlooking his family and friends as he is swept up in The Hunger Games mania, so he has organized a special screening of the film in his hometown.

The actor is on the verge of superstardom thanks to his role as Peeta Mellark in the highly-anticipated movie, which is adapted from the hugely successful books by Suzanne Collins.

Despite having a huge number of premieres to attend around the world, Hutcherson has organized his own screening in his native Union, Kentucky for his inner circle when the movie opens over the weekend.

He tells Access Hollywood, "I'm having a hometown screening for all my friends. It'll be very nice... I'll be able to be with my family and friends."