Josh Homme Sues Former Kyuss Bandmates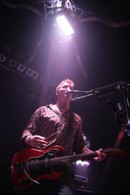 Rocker Josh Homme has filed a lawsuit against his former Kyuss bandmates in a dispute over a trademark.

The Queens of the Stone Age star, who played guitar in Kyuss until the band's split in 1995, did not take part in the group's reunion tour last year when they re-emerged as Kyuss Lives! and has now become embroiled in a legal battle over the band name.

Homme, along with former Kyuss star Scott Reeder, have filed suit against singer John Garcia and drummer Brant Bjork, accusing them of "trademark infringement and consumer fraud" for attempting to trademark the band's name without them.

The pair says in a statement, "It sucks. To think we went to a meeting in January solely to help them with their request to continue Kyuss Lives! With open arms, we made every attempt to help them continue Kyuss Lives! respectfully. Only to discover while they looked us in the eye, Kyuss Lives! management and band had filed federal documents in 2011 in an attempt to steal the name Kyuss. This is desperately what we were trying to avoid. It's a sad day for us and for John - but most of all for the fans. What a needless mess."