Josh Groban To Release Live CD/DVD Of Critically Acclaimed 'Awake Tour' On May 6

Internationally-renowned vocalist
Josh Groban
will release a brand-new live CD/DVD - titled
Awake Live
- on Reprise/143 Records on May 6th, 2008. Directed by Hamish Hamilton,
Awake Live
captures the Grammy Award-winning singer's exhilarating performance at Salt Lake City's EnergySolutions Arena before a sold-out crowd of 15,000 thrilled fans on August 28th, 2007. In its review of the tour, the
New York Times
raved that Groban has "the power to knock the arena senseless."
While the DVD includes favorites from Groban's three best-selling albums, including "Canto Alla Vita" and "Alla Luce del Sole" from his double-platinum
self-titled 2001 debut
, and "You Raise Me Up" and "Remember When It Rained" from the multi-platinum 2003 album
Closer
, the majority of the songs are from
Awake
, including the singles "You Are Loved (Don't Give Up)," "February Song," and "Lullaby." Released in September 2006,
Awake
debuted at No. 2 on the Billboard album chart and has sold more than two million copies in the U.S. The DVD contains the entire 100-minute concert from Salt Lake City, as well as behind-the-scenes "Making of the Tour" footage. Groban launched the
Awake
tour in Verona, NY, in February 2007 and performed at sold-out arenas across the country before concluding the first U.S. leg in April 2007 in Las Vegas. After a European leg, the tour resumed in the States in July for 27 more North American dates through early September 2007.
Awake Live
is Groban's third live DVD, following 2002's
Josh Groban in Concert
and 2004's
Live at the Greek
. The Salt Lake City location was selected in honor of his first arena concert, which occurred in the same city. Groban also sang at the closing ceremony for the 2002 Winter Olympics in Salt Lake City, a performance that was seen by more than two billion people.
While touring the world in support of
Awake
, the 27-year-old Los Angeles native also released a Christmas album,
Noël
, which not only spent five consecutive weeks at No. 1 on the album chart, but was also the top-selling album of 2007. In February, Groban performed at the 2008 Grammy Awards with
Andrea Bocelli
in a tribute to the late
Luciano Pavarotti
.
For more about Josh Groban, including information about an exclusive fan-club edition of
Awake Live
, please visit his
official website
.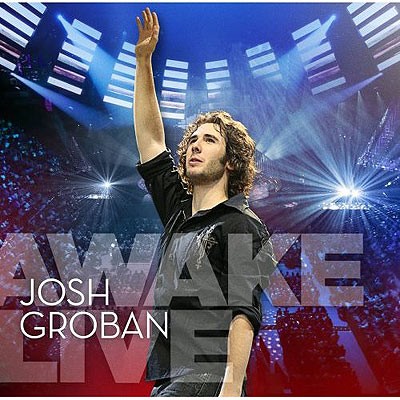 The full track-listing for "Awake Live" is as follows:
CD:
Mai
February Song
In Her Eyes
So She Dances
Un Dia Llegara
Pearls
Weeping
Machine
Awake
DVD:
You Are Loved (Don't Give Up)
Mai
Un Dia Llegara
Un Giorno Per Noir
Now or Never
So She Dances
February Song
Alla Luce del Sole
Aurora (featuring Lucia Micarelli)
Kashmir (featuring Lucia Micarelli)
In Her Eyes
Pearls (featuring Angelique Kidjo)
L'Ultima Notte
Remember When It Rained
Lullaby
Weeping
Machine
Canto Alla Vita
You Raise Me Up
Awake