Josh Duhamel Lands Black Eyed Peas For Minot Benefit Concert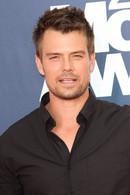 Josh Duhamel has recruited his wife Fergie's band the Black Eyed Peas to play a flood relief fundraiser in his North Dakota hometown next month.
 
Rising flood waters destroyed much of the Transformers star's native Minot in June, and left many people in neighboring regions without shelter.
 
He pledged his support to the area and was named honorary chairman of a fund established for those left homeless.

Now, Duhamel is helping to organize a benefit gig for residents - and he's enlisted the I Gotta Feeling hit-makers to take the stage.

In a post on his Twitter.com page, he writes, "Big thanks to BEP for doing a benefit show in & for Minot on September 3rd! Tickets go on sale August 12. Let's ROCK!"