Josh Duhamel Fights Back Tears As He Talks About Hometown Flooding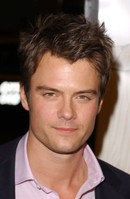 Actor Josh Duhamel fought back tears on live TV on Friday as he opened up about the devastation caused by floods in his hometown of Minot, North Dakota.

The movie star was promoting his new film Transformers: Dark Of The Moon on morning show Live With Regis and Kelly when talk turned to the aid effort in Minot.

Duhamel, whose childhood home is underwater, told the hosts he is still struggling with images online detailing the extent of the flooding, and as he talked about what people could do to help, he almost broke down, wiping tears away from his eyes.

Clearly flustered, he said, "Everything's underwater... We're raising money."

He then regained his composure and added, "The most important thing is everybody's safe, nobody died."