Josh Charles Directs Sunday's Episode Of 'The Good Wife'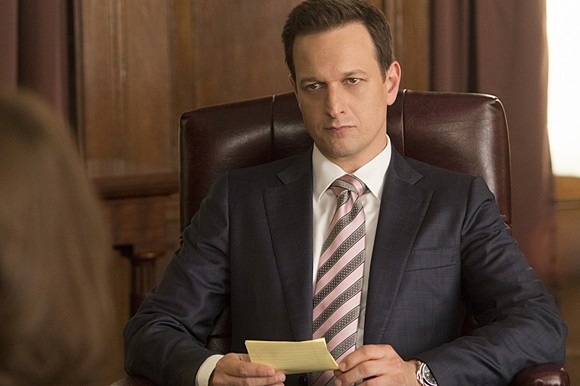 As if we needed another reason to be impressed by him this season, Josh Charles directs this Sunday's episode of The Good Wife.
In "The Next Month," Alicia (Julianna Margulies) finally gets her new firm into office space and out of her apartment, while representing an undocumented immigrant who must choose between testifying against a drug cartel or being deported. Elsewhere, when Eli (Alan Cumming) reconnects with Natalie Flores (returning guest star America Ferrera), that raises the eyebrow of ethics consultant Marilyn Garbanza (recurring guest star Melissa George). Plus, Will's new girlfriend is still hanging around, leading David Lee (the always note-perfect Zach Grenier) to compare her to Yoko Ono. In other words, The Good Wife is still deliciously complicated, must-watch TV.
The biggest reason that Season 5 stands out is the consistently electric performance from Charles; if you missed it previously, you can read our commentary to find out why we think he already deserves an Emmy award. Now, with this week's episode, fans have a chance to appreciate his talent not just as an actor, but also as a director.
It will be the second time that Charles has stepped behind the camera on TGW. He also helmed Season 4's sixth episode, "The Art of War," which aired just about a year ago, on November 4, 2012. That's how we can say his directorial skills are just as sharp as his acting instincts.
He's in great company as well; the list of TV actors who are simultaneously working as directors is pretty impressive. Just to name a few more, there's Scandal star Tony Goldwyn, who has been an active director in both films and television since 1999; in fact, he directed his future TV spouse, Bellamy Young, in a 2007 episode of Dirty Sexy Money.
Clark Johnson, who recently reprised his Homicide: Life on the Street role on Law & Order: Special Victims Unit, has amassed a solid behind-the-camera resume, including directing Charles in 2003's S.W.A.T.
Adam Arkin began directing in 1993 with an episode of Northern Exposure, and most recently was in charge of the sixth episode of The Blacklist. In front of the camera, you know him best for his roles on Chicago Hope and more recently, Sons of Anarchy.
And many USA Network series regulars have directed episodes of their own shows, including Royal Pains' Mark Feuerstein and Paulo Costanzo, Burn Notice's Jeffrey Donovan, Psych's James Roday, Covert Affairs' Christopher Gorham, and White Collar stars Tim DeKay and Willie Garson, the latter of whom makes his directorial debut in December.
But come Sunday, our eyes will be on the handiwork of Josh Charles, who is well on his way to establishing himself as another talented actor turned successful director.
The Good Wife airs Sunday at 9 PM ET/PT on CBS (check your local listings as some time zones may be affected by Sunday football coverage).
(c)2013 Brittany Frederick. Appears at Starpulse with permission. All rights reserved. No reproduction permitted. Visit my official website and follow me on Twitter at @tvbrittanyf.