Josh Brolin Brings 'Jonah Hex' Intensity To Comic-Con

Jonah Hex
won't be out until Summer 2010, but Comic Con fans got a peak at the intensity he is bringing to their western comic book character. The world has been warming up to the
Brolin
method in films like
No Country For Old Men
,
W
and
Milk
. Now he's going to bring it to a kick ass bounty hunter in the old west.
"In the comic book he's this alcoholic curmudgeony kind of guy," Brolin said. "You know he's a bounty hunter, kind of goes from place to place just trying to get trough the day. Not in the comic book, but from my perspective he's loosely based on this guy Col. Seaver, who existed back in Civil War times who is stabbed and shot forty-some odd times and grew to a nice ripe age before he died, but it's a hybrid of a lot of different people."
Sounds like a clear vision of the character, but that's not exactly how Brolin works. "This is one of those movies that before the day we shot I didn't really know what I was going to do. You know, the voice and the this, and how do we go about this, what's going to work? So it sort of developed as we were shooting and everything seemed to do that, the whole story and script, what rewriting while we were doing it. It was a very tough shoot."
All this may be just to say that he broods a lot. "Luckily I didn't have a ton of dialogue so it was okay. It was challenging as a movie, as an actor, figuring out what it is as you're doing it but I like how it turned out. I think we got very, very lucky in what we've come up with and seeing what we have now, I think we were extremely fortunate given what we had to work with."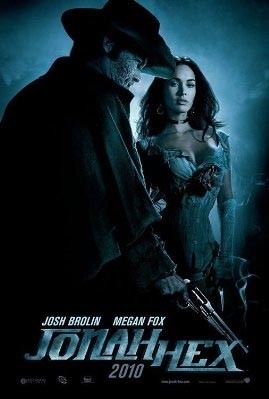 Image © Warner Bros
Story/Interview by
Fred Topel
Starpulse contributing writer
(Starpulse in Hollywood)
: Every week, Hollywood's biggest stars are meeting in the hot spots and Starpulse is there.