Joseph Gordon-Levitt's '50/50' Head Shaving Scene Was Improvised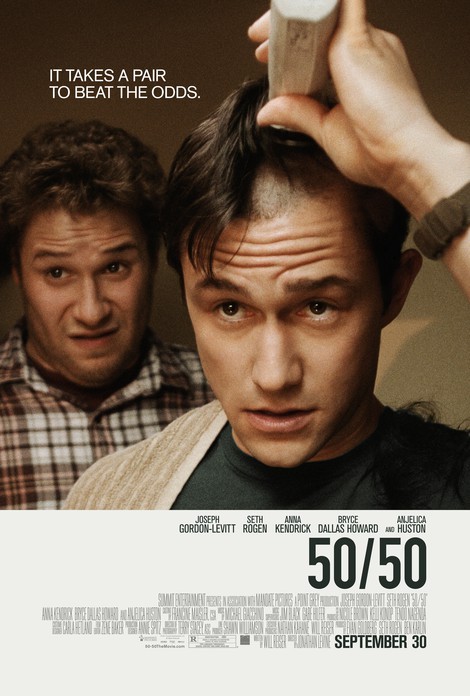 The posters for the new movie 50/50 already give away one of the major scenes. Joseph Gordon-Levitt shaves his head on camera. He plays a man coping with a cancer in which he has a 50 percent chance of surviving. Seth Rogen plays his supportive friend, and as the film's producer joked about the iconic scene.
"We did it twice, six months apart," Rogen said while doing press at the Toronto International Film Festival. "Yeah, we only could do that once and we improvised it for the most part, which could've been the stupidest thing anyone's ever done because we really could only do it once."
In true Rogen style, he came up with famous baldies he could reference while his costar shaved. "We did have a big list of bald guys if I recall. We were just like, 'Give us a list of bald guys we can shout out. Michael Stipe and bald people's names so we can make fun of him throughout the [scene].' I don't think that scene was really scripted in any way other than 'They shave his head.' That was a time when it was fun that me and Evan [Goldberg] were the producers of the movie because no one could stop us from doing something as stupid as improvising through an entire head shaving scene."
You might think that a good friend would also shave his head in solidarity. Rogen is not that crazy. "I was not going to do that. We couldn't afford two wigs."
50/50 was written by Will Riser, a friend of Rogen's who survived his own cancer treatment. "There's a school of thought that says the less comedic an idea inherently is, the more creatively ambitious it is to try to make it comedic I guess, especially without sacrificing the integrity of the subject matter. I think a lot of our movies, this one more than the other ones, on paper could be very dramatic. Superbad could be a dramatic movie, about high school guys who can't have sex and are going to be alone in college. You could make a dramatic movie about that if you really wanted. To us it seems like people's fears and the bad things in people's life deserve as much comedic attention as the good things in people's life I guess. But honestly, we made this movie because it happened to us. If it hadn't, we probably wouldn't have. No part of us was like 'We have to make a cancer comedy.' It was just we experienced this thing with Will. Then after we did, we looked at the cinematic landscape and didn't see any movies that at least tonally represented what we went through. "
50/50 opens Friday.