Jordin Sparks Mourning Great-Grandfather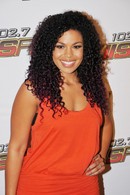 Singer Jordin Sparks is in mourning after her great-grandfather died on Thursday night.

The "No Air" hitmaker joined several of her family members following the passing, and Sparks tells fans she feels comforted her great-grandfather was surrounded by loved ones before he died.

In a post on her Twitter.com page on Friday, the star writes, "Glad I'm with my family. My great grandpa passed away last night. He was surrounded by love when he entered the pearly gates."