Jordana Spiro Returns to TV with FOX's 'The Mob Doctor'
Although My Boys is sadly no more, actress Jordana Spiro is back on our small screens in another series that's set in Chicago. On FOX's The Mob Doctor, she plays Dr. Grace Devlin, a successful surgeon who's reluctantly in with the mafia after her brother runs up a considerable debt. Recently, I caught up with Spiro and Mob Doctor executive producer Josh Berman to chat about shooting in the Windy City and what made them want to get involved with the mob.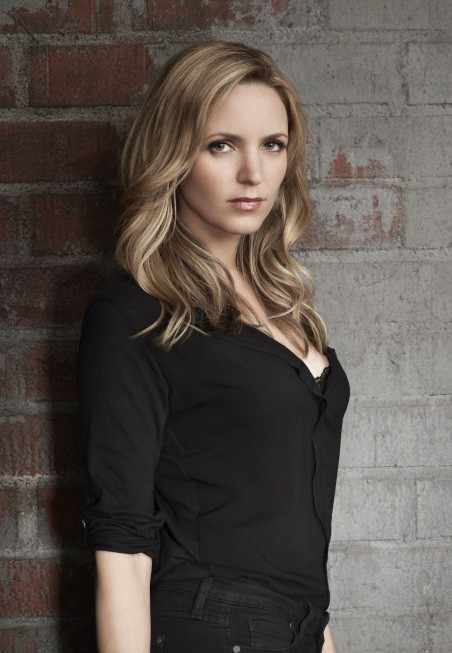 What motivated Spiro's return to television? "I think there were a couple of reasons," she said. "Two things that really stood out to me are the fact that [Grace] is a surgeon, and with that there's this inherent quality of wanting to fix things in a very direct, hands-on way. She wants to cut something open and fix it, and there's a Godliness to that. Surgeons cross a line that isn't just physical, it's psychological and spiritual.
"I thought there was something interesting that was going on with her choice of doing that, and this sort of inability to control her environment when she was growing up. She was the daughter of an alcoholic who abused her mother, and she had to really claw her way out of her background to get to where she's getting to. I thought that there was such a fieriness to her and such gumption to her that was just really compelling.

"Then when I read the pilot script and I read the scenes with Constantine (played by WIlliam Forsythe), her debtor, I thought they were so fascinating because it could have been so easy for Josh to have made that relationship purely antagonistic, but it's so oddly serene and paternal. I just got very excited to unpack that - that this isn't just some financial debt that's at the surface; it's where she's from, it's in her DNA, this world that she's trying to get away from and also being pulled to at the same time. Those two things really were pulled into the foreground for me when I read the script.
"Ultimately, the overarching heartbeat of the show to me, which was so exciting and compelling, was that this woman is making choices that are very morally conflicted and yet at the beginning it's to save her family. The question becomes how far do you go? Where is that line that you absolutely won't cross? What happens when that line keeps edging further and further away from you? Is there a breaking point where you say, if I can't beat them, I'll join them?"
She's also enjoying shooting more extensively in Chicago. "We would just pack our exteriors onto the end of ​My Boys​ - we definitely didn't get enough time to spend here," said Spiro. "You know, it's an incredible thing that happens when you're shooting in the place that the story takes place in, not just visually but for what that adds. It's invaluable to what it adds to the picture of what you're shooting.
"Also, when the entire crew is from where you're shooting, the conversations you get to have on set just doing what you're doing, going about your day; inform and ground what you're doing as your character so much more than I anticipated. I think that's been the most surprising and pleasurable aspect of shooting on location is those interactions with the crew and with the local environment."
"It was a personal reason and a professional reason," added Berman, explaining why he chose to set the series in Chicago as opposed to the common locales of Los Angeles and New York. "Professionally, when you're on a network show, and you have a studio that says you can shoot anywhere you want, and you're writing a show about the mob; there's no better city than Chicago. The post-9/11 resources have gone away from organized crime and into fighting terrorism, and there's a whole new face on the mob and being able to place it in Chicago with such historical roots made the most sense.

"Personally, it's a real pleasure because my family comes from Chicago. My grandmother was a Holocaust survivor, and she ended up in Chicago, as well as five of her cousins, the only people that survived. For them, my family, Chicago represented the American Dream. So, it's a real great return for me."
Comparing her ​Mob Doctor​ experience to her work on ​My Boys, Spiro said "I think it's just different kinds of challenges on this one. I wouldn't say tougher challenges, but different challenges. I think one of the things I do really appreciate is that there could be a lot more pressure doing a show like this - doing a FOX primetime one-hour drama where you're the centerpiece of it.
"I think that it's a real testament to how Josh makes the people around him feel. There's a real support system around you, and in fact any kind of pressure actually comes from the pressure you put on yourself and not from the people around you. Everybody from the directors, the producers, the writers, the crew just made me feel really at home here and really supported the work I'm doing. That's been a really nice way to couch the challenges that this job comes with."
Agreed Berman, "I think this show has attracted a lot of Type A personalities. We all put more pressure on ourselves then we do on each other. We're a big support network for each other, but then we look internally. I think Jordana is flawless in her performance, and I know she's her toughest critic. With the scripts too, I rewrite them so many times because I want it to be perfect.
"In terms of support, we're so lucky. We're the only new drama on FOX this fall. We have so much support from the network, who just love the show, and getting the phone calls when they say 'We just saw a cut and we love it, we love it, we love it,' that's music to our ears." But, he admitted, "We quickly forget about the accolades and then go back to being hard on ourselves because that's our nature."
"We feel thrilled," he said, looking forward to tonight's premiere. "We are energized."
The Mob Doctor premieres tonight at 9 PM ET/PT on FOX.
For more from Brittany Frederick, visit Digital Airwaves and follow me on Twitter (@tvbrittanyf).
(c)2012 Brittany Frederick/Digital Airwaves. Appears at Starpulse with permission. All rights reserved. No reproduction permitted.