Jonathan Silverman Tackles A Bold Role In Tonight's 'Law & Order: SVU'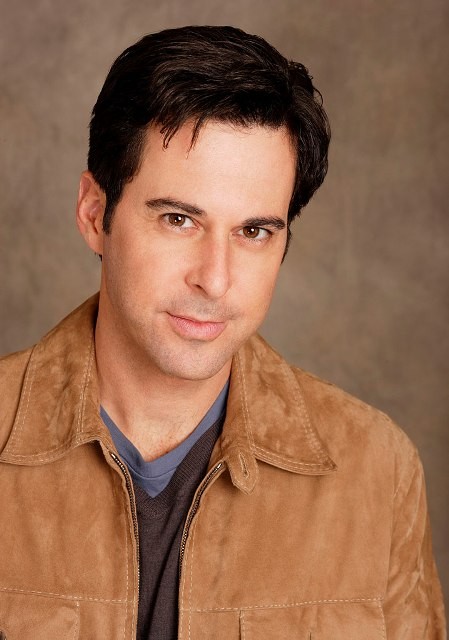 Jonathan Silverman is an immensely likeable actor, and as far as we know, a pretty darn good person in real life, too. Which makes it so deliciously strange that he's playing a rapist in tonight's episode of Law & Order: Special Victims Unit. Jonathan joined BFTV on Monday to discuss his SVU character, comic Josh Galloway, and what it's like for him to turn bad.
How did he get the part? "First of all, [SVU showrunner] Warren Leight is a God in my eyes and he knows I would do anything to work with him again. I was lucky enough to be in the West Coast premiere of his wonderful play Glimmer, Glimmer & Shine at the Mark Taper Forum. I would do anything to work with him," Jonathan enthused, telling us, "So when he presented me with this script, I was blown away by how powerful it was and a little scared about just the workload involved.
"And then of course, my next reaction was, 'Oh, can I do this?' You know, it's obviously a subject matter that is very delicate to me, to my wife, to some of our dear friends," he continued. "And I was somewhat hesitant. I had to discuss it with my reps, with my manager, with my agents. And we ultimately decided, you know, this is what I do for a living. And you don't always get to play reputable characters. Sometimes you get your hands a little dirty - literally - and play the bad guy.

"And I'm so glad I did. Obviously I hope people don't respond to my character's inclinations on and off stage. But it was a wonderful opportunity to portray and to get this message out, so I'm thrilled I did it."
"Warren and his staff wrote an absolutely fascinating character, and I was a bit terrified to tackle it," Jonathan continued. "I've actually known [episode writer] Brianna Yellen for a number of years, because she was the assistant to Mr. Ted Kotcheff, who also was a major part of SVU, and directed a little movie I was in called Weekend at Bernie's. So I've known this young lady for [years] and I'm so proud of her. Warren and Brianna and his staff created truly a despicable and uncomfortable human being."
"In all honesty, reading it for the first time and working on it before we started shooting it, I didn't have much positive things to say about him. I really felt I was playing a very nebulous, a vulgar character," he told us. "But something interesting happened while we were shooting it. In trying to dissect and attack the role, I found a way for myself to sympathize with the character I was playing and to try and make him human."
He got some help in that department from another old friend, SVU star Mariska Hargitay. "Mariska Hargitay is a dear friend and has been for decades," he explained. "As a matter of fact I had the pleasure of working with her first in a somewhat similar capacity, at least she played a cop. Mariska recurred on another NBC show literally 20 years ago, The Single Guy, [and] she played the role of the hot mounted cop. She was the policeman who would show up every now and then on a horse. And my character was constantly chasing her.

"So I certainly have been following her every step of the way. And when she first got cast in SVU, I was her biggest supporter. And watched and screamed and applauded and still do. And she was an absolute dream to work with, as was the entire cast."
"Mariska and I had a lengthy discussion at one point. And we both found reason to sympathize with this gentleman's plight. He looks at himself as a social satirist who wants to hold a mirror up to society and its pitfalls. And he actually discusses how it's important to look at society's evils," he continued. "And if you can't laugh at it then all you really can do is cry. So it's his opportunity to put it out there.
"The other interesting thing about this character is at times we find out he practices what he preaches on stage. And I tried to figure out a way to make him a little more sympathetic as well," he said. "For whatever reason, he seems to be adored by his young crowd that he seems to attract, as a lot of these stand-up comics do, a very hip young college crowd. And these girls are approaching him. He doesn't seem to be the one who is targeting them. They're coming after him, and they're showing up in his space and going to his hotel room.

"And we just tried to figure out a way to play it from the other perspective, just to give the audience a chance to see for themselves who they might side with and live for a minute or two, in someone else's world, and perhaps understand it better."
That doesn't mean that the performance didn't get under his skin at times. "there's a number of scenes in this upcoming episode where it was very uncomfortable, very raw, very naked literally," Jonathan revealed. "And I got to do things I really don't get a chance to do - thankfully in my own life and certainly on screen as well.

 "And I felt awful actually. I didn't really think I would, but I really felt I needed to scrub and bathe after one particular scene that we shot. So it affected me. It really threw me for a loop, actually."
Law & Order: Special Victims Unit airs tonight at 9 PM ET/PT on NBC.
(c)2014 Brittany Frederick. Appears at Starpulse with permission. All rights reserved. No reproduction permitted. Visit my official website and follow me on Twitter at @tvbrittanyf.