Jonas Brothers Kick Off The 2010 US Open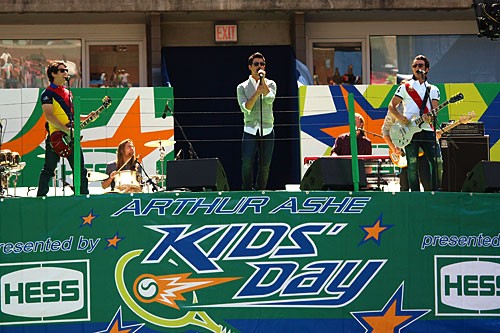 A hectic touring schedule didn't stop the Jonas Brothers from making an appearance at Arthur Ashe Kids Day in Flushing, New York on August 28th. It's the third time that the superstar siblings have participated in the all-day event , and judging by fans' reactions they have not worn out their welcome.
To kick off the 2010 US Open, the Jonas Brothers performed a few of their latest tunes, getting the crowd of tweens and kids on their feet and singing along. They were joined by Camp Rock 2 co-star, tour mate, and in Joe Jonas' case ex-girlfriend, Demi Lovato, another fan favorite with the Arthur Ashe Kids' Day crowd.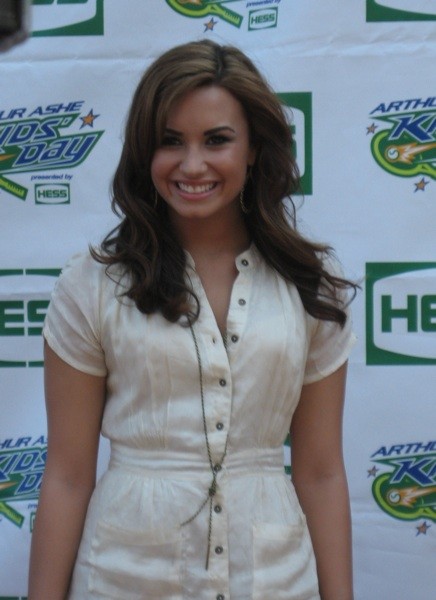 There were also appearances by The Bryan Brothers, Shontelle, AllStar Weekend, and American Idol alum, David Archuleta, who got many-a-shriek from the tweenage girls in the audience when he took the stage to sing his catchy new single, "Something About Love."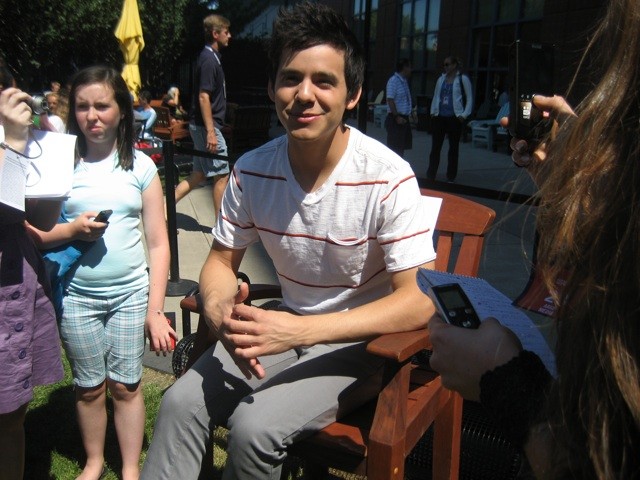 The festive event, hosted by Adrienne Bailon and Quddus also featured some fun action on the court. Tennis fans got to see professional athletes take on pint-sized competitors. The kids proved to be miniature kings and queens of the court, especially when Olympic skier Lindsey Vonn showed up to try her hand at a different sport. Perhaps the medal winner was a bit distracted after watching the Jonas Brothers perform. "They are really good-looking," Vonn admitted before the show, before quickly reminding us (and herself?) that she's already off the market.
Tennis Ace Andy Roddick was in a playful mood as he took on a 9-year-old opponent and jokingly squabbled with special guest referee, Nick Cannon.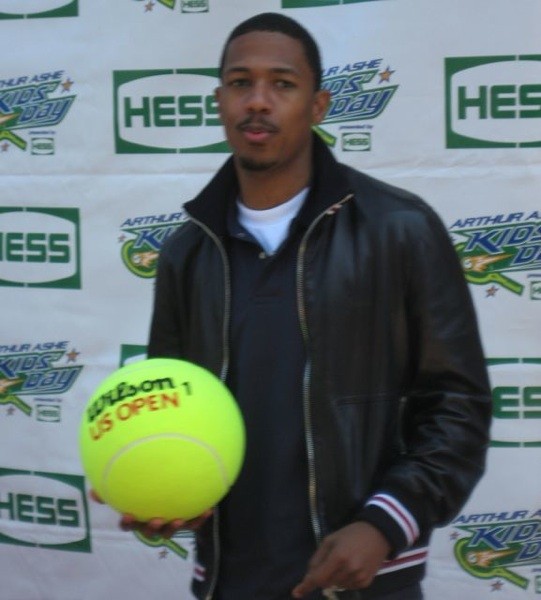 Speaking of Cannon, perhaps his presence at the Kids' Day event means he's ready to tell us something? Unfortunately, not. The tennis fan and "America's Got Talent" host wouldn't confirm or deny the rumors that wife, Mariah Carey is expecting the couple's first child, but was all smiles as he said, "I'll leave it to my wife to say what she wants to say."
Whether or not he's in the family way, Cannon was proud to be a part of the festive celebration and kick-off event for the 2010 US Open. He certainly wasn't alone. Everyone seemed to be in great spirits as they honored the legacy of Arthur Ashe with a jam-packed set of tennis and musical performances.
On the tennis court, love usually means zero, but when you've got stars like the Jonas Brothers and Demi Lovato in the house, it's all about the screaming fans cheering for their heroes.