Jon Stewart And Bill O'Reilly To 'Rumble' In Online Debate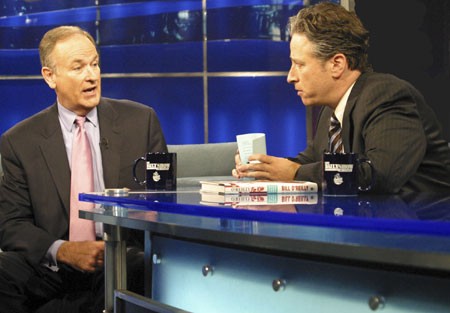 On October 6 at 8 PM, political pundits Bill O'Reilly of Fox News and Jon Stewart of Comedy Central will be going at it on an online debate on the upcoming election. The live stream will be available for $5, with proceeds going to charity.
While having a modicum of professional respect for one another, the two often play up the differences between their fan bases - mostly that they are on different sides of the political spectrum. 
The two already traded barbs on O'Reilly's program. Said Bill, "We're going to be like we are in real life: Me very successful and you just barely hanging on."
Jon countered that he will bring O'Reilly "back from the dark side," quoting Star Wars: "I sense there is still good in you." 
The pair gave a taste of their banter on the show, going over topics such as Clint Eastwood's empty chair segment at the GOP convention. At the end, Jon quipped, "By the end of this, you're gonna be Jewish."
More information on the live debate at TheRumble2012.com.