Jon Gosselin Rethinks His Life, Gets A Back Tat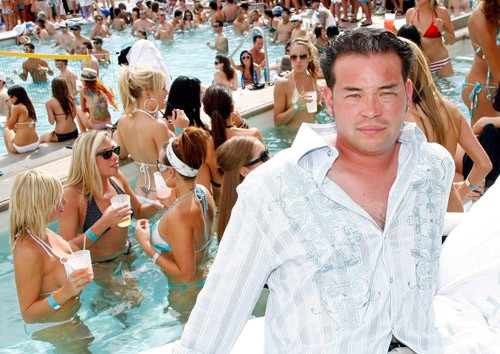 "Just when I thought I was out, they pull me back in!"
Ok so this isn't 'The Godfather' but that quote does apply to arguably America's most hated dad, Jon Gosselin.
For the most part, the media has been focused on Kate Gosselin and her short-lived stint on 'Dancing with The Stars', as well as, her alleged affair with her body guard and the continuous rumors of diva-sized demands. But, despite her jaded and at times bitter exterior, the public seemed to almost sympathize with her for being a single parent to eight young children with a very questionable father. In the face of such challenges and mixed feelings from the public, Kate has rebounded nicely with her own show, 'Kate Plus Eight', People Magazine covers, new hair (we'll miss you spiky mullet) and time co-hosting 'The View'.
That's great for Kate but what about Jon Gosselin? Sure he's dated a bevy of 20 something year-olds, blew through all his cash, partied in Vegas and got kicked off his show, TLC's "Jon and Kate Plus Eight" but he's been relatively quiet in the past few weeks. The holidays come early this year because Jon unsheathed his new, HUGE, back tattoo.
According to an interview with Radar.com the new back tat comes as a result of some soul searching and internal reflection (see pics here). This is some deep stuff people.
Jon was quoted as saying, "I wanted something that resembled a rebirth or a change in me."
His new hiring manager (good to hear that he still needs one, his child support can't be cheap), Canaan Rubin said of the tattoo, "this tattoo for Jon marks this turning point in his life, and symbolizes his time of change, and improvement."
Just to recap what Jon and his hiring manager were saying, he got a huge back tat to show he's a better father and a better person. Interesting idea but it's definitely safe to say that Jon is no Angelina Jolie (in celebrity stature or looks). Jolie has also gained a lot of press over her tattoos which include the geographical coordinates where her children were born, a tiger, a cross, a Buddhist prayer and a phrase that says "know your rights". The important thing that Jon and his new hiring manager should note is that Angelina is a very involved mother, philanthropists and activists. She puts her words into actions, the key word being "action", otherwise definite as doing something. 
Tattoos can be cool and they can be expressive but they can also be a joke. Jon's tattoo and his public persona are great for a laugh but it's hard to take either seriously when he dates a new undergrad every week, allegedly takes money from his family, sues Kate for custody despite rumors of not having a full time job and generally tarnishes his public image with every move he makes. It might be a better idea for Jon to actually make some changes in his lifestyle first and then reconsider the tattoo.