Jon Bon Jovi Launches Homeless Initiative 'Project REACH'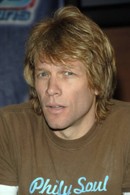 Rocker Jon Bon Jovi has launched a new development competition in an effort to end homelessness in the U.S.

The It's My Life hit-maker, who recently opened donations-only restaurant Soul Kitchen in his native New Jersey, has called on entrepreneurs to build a web application, which can provide the homeless with real-time information about health clinics, shelters and food kitchens.

The contest, called Project REACH (Real-time Electronic Access for Caregivers and the Homeless), was developed in partnership with officials at the U.S. Department of Veteran Affairs (VA), Housing and Urban Development (HUD), and Health and Human Services (HHS), and the musician admits he's thrilled about the idea of using technology to help the less-fortunate.

The Livin' On a Prayer singer says, "At the Soul Kitchen, we've seen the need for a simple, user-friendly, comprehensive application that connects those in need to resources in their community."
"As we sought out a solution to resolve the disconnect, we found the VA, HUD and HHS to be of like mind. Together we can provide the information about existing services - now we need the bright minds in the developer community to create a platform to tie it all together."

The winner will be awarded $25,000.