Jon Bon Jovi: 'I Want The Country Of September 12th Again'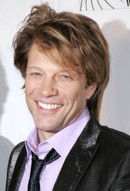 Rocker Jon Bon Jovi paid tribute to the victims of the 9/11 terrorist attacks by performing a special gig for firefighters in New York on Wednesday.

The musician turned up at a firehouse in Manhattan to sing for police officers and firemen as part of a taping for a special NFL Kickoff 2011: Back to Football show to be aired on Saturday.

The show is in honor of the hundreds of emergency service crews who risked their lives on 9/11 to help victims of the World Trade Center atrocity in the Big Apple.

Bon Jovi performed America The Beautiful, the same track he sang on September 23rd, 2001 prior to the NFL games kickoff after the terror attacks.

The singer says, "I want the country of September 12th again, when everybody came together. We said we'd never forget and now we can live up to it."

Sunday marks the 10th anniversary of the horror, in which al-Qaeda terrorists killed almost 3,000 people in New York, Washington, D.C. and Pennsylvania.