Jon Bon Jovi: 'I Don't Know How The Hell Mick Jagger Does It'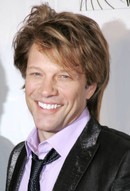 Bon Jovi frontman Jon Bon Jovi has vowed to keep on rocking into his old age, insisting the band will never break up.

The Livin' on a Prayer hit-makers formed in 1983 and have become well-known for their lengthy world tours.

Bon Jovi, who turns 50 next year, admits the group will be forced to scale back its touring commitments as the rockers age - but he's promised never to split up the band.

He tells Britain's Seven Days magazine, "This band is past the point of breaking up or anything silly like that. There's such a mutual respect. We continue to make Number One records and fill stadiums.

"But will we still be doing 150 shows per tour? I just can't see it. I don't know how the hell Mick Jagger does it at 67. That would be the first question I'd ask him. He runs around the stage as much as I do yet he's got almost 20 years on me."