Johnny Weir Says His Marriage Was Abusive, Mentally Crippling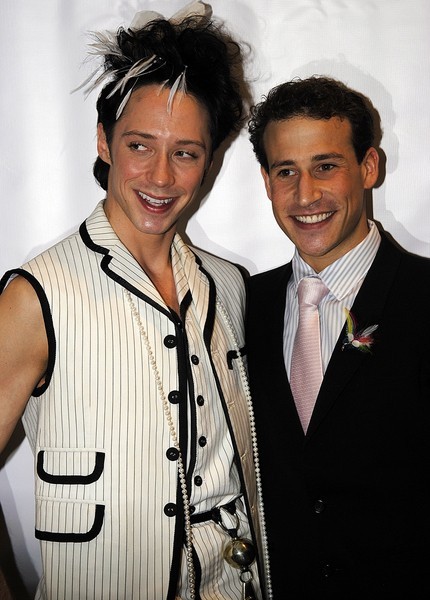 Ice skater Johnny Weir has opened up about his split with Victor Voronov, telling "Access Hollywood" that their fights occasionally escalated physically.
According to Us Weekly, he told Billy Bush on Thursday: "It wasn't often, but...we're boys, boys fight, boys wrestle boys. It was usually good humored wrestling, but a few times, of course, it did get physical and...some of my closest friends have seen him hit me before."
It appears the domestic violence may have gone both ways. Weir, 29, was arrested for allegedly biting Voronov prior to traveling to Sochi, Russia, for the Winter Olympics.
Weir explained the incident, saying: "I was defending myself on that night...you would never see a mark on my body, but the damage that was done to me mentally was crippling."
He claimed that Voronov was drunk and upset about some financial matters.
"We had a fight, and then I went to sleep because I had to work the next day, and he came in - not very himself - and asked me to lay with him in the biblical sense, and when I refused, the altercation between us started," Weir continued.
"We were fighting in such a terrible way, and it did get physical on that night, and it's unfortunate that things went the way that it did, because domestic violence is never the way to go. Domestic violence is never the answer, and when it's two men, things are different."
Voronov's rep confirmed to Access Hollywood that there was an incident and that Weir was arrested, but said "that case was dropped by Victor at the urging of Johnny prior to the Olympics. The person who bit someone was Johnny."
Weir said they also struggled as a couple due to his job as a figure skating commentator, while Vornov, a former attorney, didn't work.
"He was not super accepting of the fact that I work and I have to work this week in Russia, this week in Los Angeles, next week in Tokyo..." Weir said.
A rep for Voronov told Access Hollywood that his client quit his job per Weir's request. He added: "It is our extreme hope and desire that this divorce could have been handled amicably. Not only is Victor heartbroken but he is now humiliated."
Weir had announced the split on Wednesday, telling fans: "It is with great sadness that I announce that my husband and I are no longer together. I have been sad for a long time, and unfortunately don't foresee a way to resolve our current marital issues."

The couple wed on New Year's Eve in 2011.