Johnny Knoxville Risks More Than Ever In 'Jackass 3D'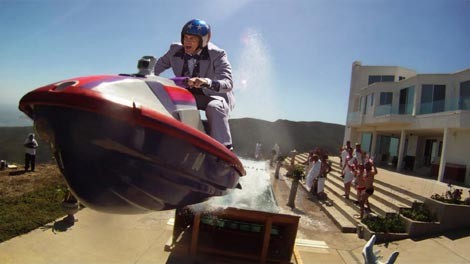 When Jackass started, Johnny Knoxville was a hungry young star ready to risk anything to make it in Hollywood. 10 years later he's a movie star, a married man and a father yet he's doing stunts crazier than ever in Jackass 3D.
"It's just so fun," Knoxville said. "I know that I almost bought it but it's fun. It's me and my friends, something we created together and been doing for ten years. The cast and crew have all been together. It's just great to do something, it may be scary, but you're watching the footage afterwards and everyone's laughing."
Even though their opening warning was "Don't try this at home," and MTV refused to watch tapes from any other jackasses, people have tried to top Jackass. Now anyone will post a clip to YouTube.
"There's some funny stuff out there, but we're not in competition with anybody," Knoxville said. "We just love doing what we do, and we end up one-upping ourselves. It takes a little more to make us laugh than it did maybe five, six years ago, because, okay, we've been there, done that, so what's next? We don't think, going into this movie, we have to top this. We just have to be funny. It's such a competition to get footage, like if Bam gets something great, then it's like, well, we all have to get something great."
"Don't try this at home" extends to the Knoxville family, Johnny's son and daughter. "They can do pranks, but no stunts."
One of Knoxville's more dangerous stunts in Jackass 3D was taking a Blind Side tackle from NFL star Jared Allen. "I wanted to get hit going over the middle, and we were doing that, then Jared Allen was like, 'Well, you know I'm a defensive end, my best thing is the blind side.' I'm like, okay. That's what kind of just happened on the day. He hits really hard. He was great, he had such a fun spirit about it. We were walking to the set, and he's like, 'Man, I got second thoughts about it. I think I was raised better than this.' But then, of course, when we were shooting, he was just having a ball of murdering my face."
Knoxville also gets in the pen with buffalo and bulls. "The buffalo, I mean it badly hurt, but I didn't get injured. The bull, I got a pretty bad concussion on, which I got lucky on that one, because I landed on the back of my neck. But thank God the bull kicked me in the head at the last second and altered my course just a little, and I'm sitting here today, talking."
Jackass 3D opens Friday.