Johnny Depp & Vanessa Paradis Have Been Apart For Over A Year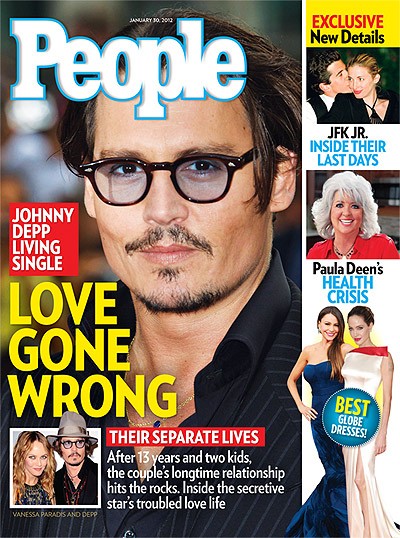 After nearly 14 years and two children, their once-idyllic life in France is largely a thing of the past as Johnny Depp and Vanessa Paradis drift apart amid increasing tensions in this longtime relationship. This week's issue of PEOPLE examines the free-spirited couple, who are struggling under the strain of their long-distance lives, Depp's huge career, and the secretive actor's solo nights out.

At the Golden Globes on Jan. 15, the subdued-looking Depp skipped the red carpet and made a two-minute appearance as a presenter before being whisked away by his publicist, Robin Baum. "He had his head down and he did not smile. He looked messy," says an observer backstage. "He walked offstage and went right out the back door." Not spotted was his longtime partner Paradis, who hasn't joined Depp on a red carpet in well over a year. Her absence wasn't just about spending the evening in; according to multiple sources, the swashbuckling star, 48, and the stylish French actress-singer, 39, are all but officially finished. In fact, some in their circle say the couple, who never married, have already split. Says one insider: "It's so sad."

The strain has been building for a while. Both devoted parents to their kids Lily-Rose, 12, and Jack, 9, the pair have shown unity on family occasions – a yacht vacation last summer, a birthday party for a relative at the Beverly Hills Hotel this New Year's Eve – but otherwise spend much of their time apart. (Reps for the two would not comment on the status of their relationship.) In Paris last November, Depp and Paradis attended events on consecutive days but stayed in different hotels and weren't seen together, with Depp attending the premiere of his film The Rum Diary solo. "She went instead to a concert that night," says a source. "It was weird and pretty clear: You're in town and don't go to the premiere of your husband's film? One which he starred in, produced?" The next day, Paradis turned up at an event with Chanel's Karl Lagerfeld, no Depp in sight.

At the Cannes Film Festival last May – which unspools just miles from the couple's estate in nearby Plan-de-la-Tour – insiders were shocked when Depp showed up solo to promote the fourth installment of Pirates of the Caribbean. "Johnny and Vanessa are as big a Hollywood glamour couple here as Brad and Angelina," says one industry insider. "Everyone expected they'd come together until the morning of the screening. We couldn't believe they wouldn't come together."

More recently, both have been staying in L.A., but not necessarily under the same roof: Depp owns several houses in the hills near Chateau Marmont, says a source in their circle. "My sense is that this is a couple which hasn't existed for two years," says someone who knows the pair well. As they spent more time in Hollywood and Depp's career exploded, so did tensions. "They bet that they could move to California and be on long stays on film locations, for his career. They bet that things would continue there as they had in the south of France. They lost that bet," says a source close to the couple. "Vanessa went seven years between albums, and several years between film projects, while he became Captain Jack Sparrow."

That meant he was often traveling to film sets while Paradis remained behind in L.A. with the kids, who attend private schools there. On the set of the fourth Pirates in Hawaii in 2010, he was often spotted drinking wine at local bars like Honolulu nightspot Apartment 3: "He would chat with girls and was very friendly and flirty," says a source. On the Puerto Rico set of The Rum Diary in 2009, "the girls loved him," says actor Carlos Alberto Lopez. And a source in the Caribbean has seen the actor yachting in recent years with various male and female friends – minus Vanessa. Now Depp is off again, this time to film The Lone Ranger in remote New Mexico. Although friends hope the couple can reconcile, the space between the two may be too wide to bridge. "They are both very attached to their children and could work things out," says a source who knows them well. "But they have both changed – a lot."


*Also In This Week's 'People'*
Paula Deen's Type 2 Diabetes Diagnosis: "I've Always Tried To Practice Moderation"
Exclusive Book Excerpt – Inside JFK Jr's Final Days
Heather Locklear's Hospitalization: "She Has A Problem With Alcohol"
Kate Winslet: "Your 20s Are Kind Of Awful, Actually, And Terribly Confusing"