Johnny Depp Stars As Legendary Outlaw John Dillinger In 'Public Enemies', On DVD Dec. 8

Award-winning director
Michael Mann
transports audiences back to the era of the 1930s American gangster in the critically acclaimed crime saga "
Public Enemies
", coming to two-disc Special Edition Blu-ray Hi-Def, two-disc Special Edition DVD, single disc DVD and digital download on December 8, 2009 from Universal Studios Home Entertainment. Starring Oscar nominee
Johnny Depp
,
Christian Bale
and Oscar winner
Marion Cotillard
, "Public Enemies" places you in the center of the fast and dangerous life of outlaw John Dillinger (Depp), whose cascade of heists, breakouts and charismatic press conferences captivated a nation and won him the heart of Billie Frechette (Cotillard) who went along for the ride. Meanwhile, at the same time, he was being hunted nationwide by crime buster Melvin Purvis (Bale) and the FBI as the nation's first Public Enemy No. 1.
In "Public Enemies", Mann recreates Dillinger's glory days with ferocious clarity in an explosive saga that also stars
Billy Crudup
,
Stephen Dorff
,
Stephen Lang
,
Channing Tatum
,
Emilie De Ravin
and
Giovanni Ribisi
. Fans can experience every exhilarating moment of "Public Enemies" with perfect picture and the purest digital sound available on Blu-ray. Through the Blu-ray exclusive interactive timeline, audiences can also explore the amazing true-life events depicted in the movie. And, through Universal's all-new acclaimed BD-Live Center, fans can access additional content, movie trailers and more with a click of the remote!
A Barrage Of Thrilling Bonus Features
Both the two-disc Special Edition DVD and the Blu-ray Hi-Def version include:
-Larger than Life: Adversaries—Stars Johnny Depp and Christian Bale face off in their portrayals of the real legendary gangsters shown in the film.
-Michael Mann: Making "Public Enemies"—See Michael Mann work with his cast and crew including Johnny Depp, Christian Bale and Marion Cotillard.
-Last of the Legendary Outlaws—A look at the real John Dillinger and other notorious American gangsters including Bonnie & Clyde and Pretty Boy Floyd.
-On Dillinger's Trail: The Real Locations—Compare the real locations used in the film through behind-the-scenes and archival footage.
-Director's Commentary—Feature commentary with director Michael Mann.
-Criminal Technology—A study of the guns from the 1930s. Watch Johnny Depp and other cast members learn how to fire them realiztically.
-The "Public Enemies" Blu-ray and two-disc Special Edition DVD will also be available with Digital Copy for a limited time only. Transfer the digital copy to your iPod, Mac or PC and experience "Public Enemies" anywhere, anytime!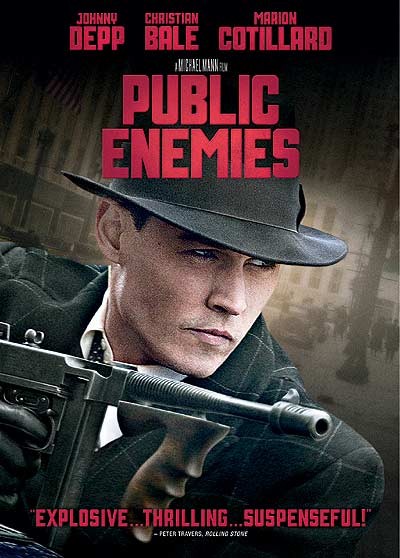 Image © Universal Studios Home Entertainment
"Public Enemies" on Blu-ray Hi-Def offers these exclusive bonus features:
-U-Control—Universal's exclusive signature feature puts the viewer just one click away from going deeper into the making of the film without ever leaving the movie.
-Picture-In-Picture—Dig deeper behind-the-scenes with production-related featurettes on how cast and crew brought Dillinger and his accomplices to life.
-Interactive Timeline— Follow three timelines of a national crime spree that spanned 14 months from 1933-1934 and view in depth coverage on Dillinger and his gang through archival materials, historians and family members
-BD-Live—Blu-ray viewers can access the BD-Live Center through an Internet-connected player to download more exclusive content, the latest trailers and more!
-My Chat—Use Internet-connected players to host a text chat while watching the movie with friends who also own "Public Enemies" on Blu-ray Hi-Def.
-My "Public Enemies" Commentary—UniversalHiDef.com and the BD-Live Center together offer the opportunity to create video, audio or text commentary that can be shared with others in the BD-Live community.
-My Scenes Sharing—Bookmark favorite scenes from the movie then share with BD-Live buddies!
-Gangster Movie Challenge—Test your knowledge of some of Hollywood's most infamous gangsters, then see how you rank on the leaderboard.
The single disc DVD version of "Public Enemies" includes the "Larger than Life: Adversaries" bonus features as well as Director's Commentary.
Universal Studios Home Entertainment Is Offering Up A $100,000 Prize To Celebrate The Blu-ray Hi-Def And DVD Release Of "Public Enemies" This Holiday!
Beginning November 4th, rob the bank without going to jail and play for a chance to win $100,000 cash! Over 200 additional prizes will be awarded, including HDTVs, Netbooks, Blu-ray players and more. Each winner of these additional prizes get 2 – one for themselves and one to give away this holiday. Enter and see official rules at http://www.universalstudios.com/publicenemiesinstantwin
(*$100,000 prize will be awarded in the form of a check to the winner.)
In "Public Enemies", acclaimed filmmaker Michael Mann directs Johnny Depp, Christian Bale and Academy Award winner Marion Cotillard in the story of legendary outlaw John Dillinger (Depp)—the charismatic bank robber whose lightning raids made him the number one target of J. Edgar Hoover's fledgling FBI and its top agent, Melvin Purvis (Bale), and a folk hero to much of the downtrodden public. No one could stop John Dillinger and his gang. No jail could hold him. His charm and audacious jailbreaks endeared him to almost everyone—from his girlfriend Billie Frechette (Cotillard) to an American public who had no sympathy for the banks that had plunged the country into the Great Depression. But while the adventures of Dillinger's gang—later including the sociopathic Baby Face Nelson (Graham) and Alvin Karpis (Ribisi)—thrilled many, J. Edgar Hoover (Crudup) hit on the idea of exploiting the outlaw's capture as a way to elevate his Bureau of Investigation into the national police force that became the FBI. He made Dillinger America's first Public Enemy No. 1 and sent in Purvis, the dashing "Clark Gable of the FBI," to bring him down. But Dillinger and his gang outwitted and outgunned Purvis' men in wild chases and shootouts. Only after importing a crew of Western ex-lawmen (newly baptized as agents) and orchestrating epic betrayals—from the infamous "Lady in Red'' to the Chicago crime boss Frank Nitti—were Purvis, the FBI and their new crew of gunfighters able to close in on Dillinger.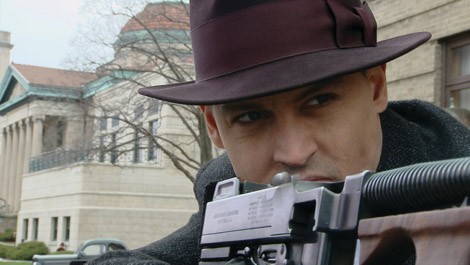 Image © Universal Pictures
Universal Studios Home Entertainment is a unit of Universal Pictures, a division of Universal Studios (www.universalstudios.com). Universal Studios is a part of NBC Universal, one of the world's leading media and entertainment companies in the development, production, and marketing of entertainment, news, and information to a global audience. Formed in May 2004 through the combining of NBC and Vivendi Universal Entertainment, NBC Universal owns and operates a valuable portfolio of news and entertainment networks, a premier motion picture company, significant television production operations, a leading television stations group, and world-renowned theme parks. NBC Universal is 80% owned by General Electric and 20% owned by Vivendi.
Official Site