Johnny Depp & 'Rum Diary' Director Bruce Robinson Paid Tribute To Hunter S. Thompson With Scotch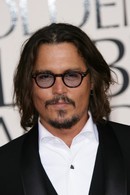 Johnny Depp and director Bruce Robinson paid homage to late Hunter S. Thompson on the set of new film The Rum Diary daily by placing a bottle of the writer's favorite scotch and a pack of cigarettes on an empty chair.

Both felt the late 'gonzo journalist' who wrote the book the film was based on was there with them in spirit - and they celebrated the man, who was a close friend of Depp's, with a morning ritual.

Robinson tells WENN, "We had Hunter's chair with a script and Dunhill cigarettes and a bottle of Chivas Regal every morning before we started work. Johnny and I would stick our fingers in (the Chivas Regal) and put the perfume of the whiskey behind our ears to celebrate Hunter. This was for him."

Depp adds, "It was the idea of keeping Hunter's spirit alive on the set for us. I knew I had Hunter with me. When I put my head on the pillow at night, I had him with me. It became addictive for everyone to go over and dab the whiskey on their ear."