Johnny Depp Needed Help Going To The Bathroom On 'Dark Shadows' Set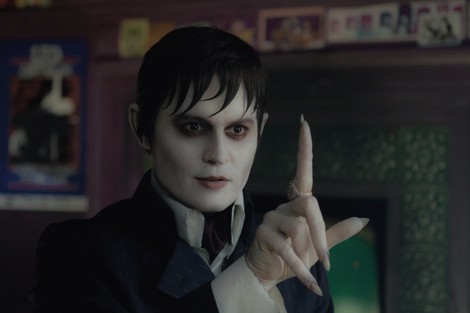 Johnny Depp's latest character, Barnabas Collins, required another dramatic physical transformation. The vampire from TV's Dark Shadows is painted pale white, walks with a cane and has long vampire fingernails. So too does Johnny Depp in the film versions.
"In every film that I've been lucky enough to do with Tim [Burton], there's always some form of torture, and the nails were Tim's idea," Depp said. "They were the length of the fingers and stuff, but it was okay because I had a troop of people who would help me go to the bathroom. They had to have treatment afterwards but they're okay now. That is true."
Other actors who have played vampires expressed their sympathy for Depp, but Depp was modest about it. "Someone felt sorry for me with the nails? There are many more reasons to feel sorry for me. We can go through them now, or we can just cuddle after. Big group cuddle. Just all get greasy and weird."
Of course many women would love to take Depp up on that cuddle offer. "Excellent," he said. "I have a little turtle pool."
A movie version of Dark Shadows was Depp's ideas, having grown up watching the '70s soap opera on television. Wearing the costume made Depp feel just like Barnabas.
"Colleen Atwood and her amazing eye and her incredible taste, she has a real magic whereas as soon as don that kind of armor that Colleen has created, the character starts to come alive so it's almost like working from the outside in in a sense. You've put on this suit or whatever that makes you stand or walk a certain way. The cane was one of the leftover things from the series. It's pretty much the same design, slightly altered but pretty much the same design. It's not a silver tipped cane because my hand would've burst into flames, which would have lit my sleeves on fire. So we couldn't go there."
Dark Shadows opens Friday.