Johnny Depp & Angelina Jolie On Their New Romantic Thriller 'The Tourist'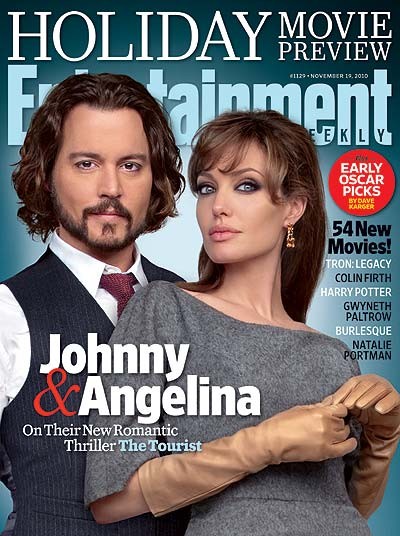 Johnny Depp and Angelina Jolie. Between them, they've made 70 films. They own homes within an hour of each other in the south of France. And they both live with actors, which you'd think would expand their A-list circles further. But it wasn't until last November that the costars of The Tourist actually met. "We're both not that social," says Jolie. "I don't think either one of us goes out of our house, especially in France. We're both locked away." Adds Depp: "So much has been written about Angie and Brad. They're sort of the Elizabeth Taylor and Richard Burton of our era. I knew she was a big star, but I didn't know what to expect..."

We take for granted that if two movie stars are big enough - and beautiful enough - they will have instant chemistry on screen. And when the PG-13 romantic thriller hits theaters on Dec. 10, the world will find out whether Depp and Jolie - arguably the biggest male and female stars on the planet - will have that indefinable spark. Until then, though, there's a story worth sharing. The story of how Angie met Johnny.

Just as "The Tourist" seemed headed for the turnaround graveyard, Jolie was in New York wrapping the stunt-heavy Salt. She remembers being black-and-blue and exhausted. "I wanted to do something that would be a great vacation for my kids," she says. "I got a phone call saying, 'Okay, the film's shooting in Venice,' and I said, 'I don't know what it is, but I'm going to say yes.' "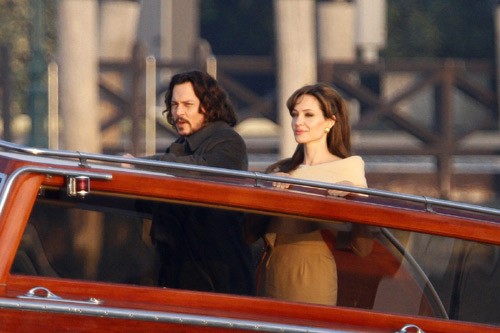 "When I read the script, I thought, 'Hmmm, there's quite a bit missing here,' " says Depp, 47. "We need to dissect this f---er and see what we can throw in there." Depp liked the idea of inhabiting an Everyman character like the Midwestern math teacher he plays in the film — a regular Joe who goes to Europe for an adventure and finds one on a train after meeting a stunning mystery woman who's being tailed by the police and a gang of Russian goons. After all, Depp had seen "Anthony Zimmer" years earlier and loved it. Plus, there was another reason for doing the film: the chance to finally meet an actress he'd long admired.

For those who watch them, movies are simple diversions. But for those whose business is making them, they're complex machines with lots of unpredictable moving parts. One of the biggest question marks on "The Tourist" was whether Depp and Jolie would have chemistry when they met. Each of the actors had been a fan of the other: Depp had been floored by Jolie's go-for-broke performance in The Changeling; Jolie had long been a fan of Depp's and later admitted she'd watched his Mad Hatter in Alice in Wonderland over and over with her six children. On Nov. 24, 2009, less than three months before the two stars would fly to Venice and start a complicated love affair on camera, King and Henckel von Donnersmarck set up an introduction for them at Depp's office in West Hollywood.

Jolie and director Florian Henckel von Donnersmarck arrived first. Henckel von Donnersmarck, playing a sort of millionaire matchmaker, quickly plopped himself in Depp's chair so the two stars would be forced to sit side by side on the sofa. Jolie paced around Depp's office trying to take the measure of her costar before laying eyes on him. "As I was waiting, I noticed these beautiful pictures of his [girlfriend, actress Vanessa Paradis] and kids and all of his paintings," remembers Jolie. "He's an artist, and you feel that in any space he's in. When he walked in, he was as interesting as I'd hoped he'd be." When asked if she was nervous going into the meeting, Jolie pauses for a minute, then replies, "Maybe."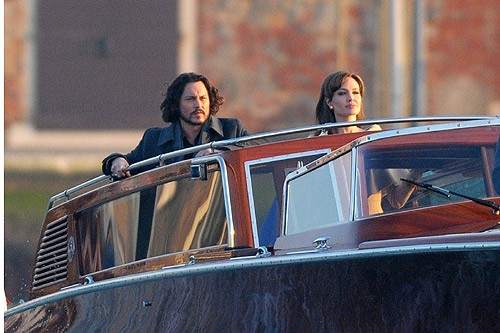 When Depp is asked the same question, he laughs. "Well, there is sort of that. Because on one level it's like, 'Here we go, kid. We're about to get into the ring together.' We sat there and babbled about our kids, and it was a huuuuuge relief. I was pleasantly surprised that she has an incredibly perverse sense of humor. She's a really cool broad." Halfway through the meeting, a bottle of wine was uncorked. And by the time it was over, everyone got in their cars, drove their separate ways, and exhaled.

Six weeks later, Depp and Jolie arrived in Venice to start shooting. They couldn't believe the film was actually happening. "I think we all kept thinking it was going to fall apart any second just because it all happened so quickly," says Jolie. Henckel von Donnersmarck showed his stars the still-wet pages of his rewrite as the cameras began to roll. They'd have to learn their lines on the fly. Fortunately, Depp and Jolie shared similar acting styles — no small concern considering that Depp loves to ad-lib and basically refuses to rehearse or pay attention to stage directions in the script. Jolie wasn't just okay with Depp's merry-prankster improvisations — she gave as good as she got. "I could throw her anything and I would expect a great tossback," says Depp. "Or I'd do a scene and she'd slap me with something and you run with that. We had a ball!"
For more on when Angelina Jolie met Johnny Depp for "The Tourist," go to EW.com!
Click for tons more great Angelina Jolie pictures:
Click for more great Johnny Depp pictures: