John Wayne Urged Steven Spielberg Not To Make '1941'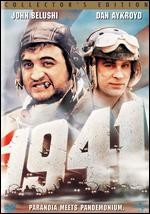 Movie legend John Wayne urged Steven Spielberg to abandon his World War II comedy 1941 - because he felt it was disrespectful to U.S. troops.

The True Grit star was initially interested in a cameo role opposite Spielberg's zany leading man John Belushi in the 1979 period film but he pulled out of the project after reading the script and told the director to follow suit.

Spielberg tells Entertainment Weekly, "He was really curious and so I sent him the script. He called me the next day and said he felt it was a very un-American movie, and I shouldn't waste my time making it."

"He said, 'You know, that was an important war, and you're making fun of a war that cost thousands of lives at Pearl Harbor. Don't joke about World War II.'"