John Travolta And James Gandolfini Play Detectives In 'Lonely Hearts,' Opening April 13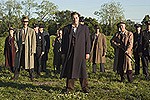 An absorbing true story about serial killers on the lam,
Lonely Hearts
is based on the murder spree of Martha Beck and Raymond Fernandez during the late 1940s and Detective Elmer C. Robinson's participation in their capture, incarceration and subsequent executions.
The murders are bloody and demented as lovers Ray and Martha travel together, Ray seducing lonely, vulnerable women, milking them of their money, then killing them. All the while Martha falls deeper into obsession for Ray, convinced of their undying bond because he kills for her, and ultimately drawn to participate in the grotesque crimes. They're a dangerous duo who leave a bloody trail behind.
Beyond the historical aspects of these events, this story is about the grim reality of being a homicide detective, how the work invades one's life and isolates one from those loved ones. The true crime aspects of the story intertwine with Robinson's personal culpability in the unexplained and spontaneous suicide of his wife.
The story also wrestles with the existential questions of purpose, accountability and a man's significance in the world while offering hope and redemption. After capturing Fernandez and Beck and witnessing their executions, it becomes clear to Robinson that he must abandon the illusion of control as it exists in police work. He realizes that any real hope for redemption, happiness, forgiveness and legacy have been before him all along in the form of his young son and devoted wife. In the end he leaves the world of homicide behind in exchange for a life with the people who love him.
In the late 1940s, Detective Elmer C. Robinson of the Nassau County Police Department, helped to capture and convict
Lonely Hearts
killers Raymond Fernandez and Martha Jule Beck. In 1951, he witnessed their executions at Sing Sing Prison and the experience changed his life.
About The Production
Lonely Hearts
is a vivid retelling of the real life murder spree of Martha Beck and Raymond Fernandez and its connection to the tragic story of Detective Elmer C. Robinson who helped capture the killers but lost his wife in the process. Robinson was a Nassau County Detective whose work was everything to him, alienating his family during the 1940's and 50's. Robinson worked very long hours on this infamous case when his wife began a downward spiral which ultimately would take her life.
John Travolta
(
Be Cool
,
Ladder 49
) plays Elmer Robinson, the dedicated and brooding detective;
James Gandolfini
(
All the Kings Men
,
The Sopranos
) is his partner who steers him through emotionally difficult times, and
Jared Leto
(
Chapter 27
,
Lord of War
) and
Salma Hayek
(
Ask the Dust
,
After the Sunset
) play the cold blooded couple who swindle and murder women they found in "Lonely Hearts" personal ads.
Writer/Director Todd Robinson brings this powerful story to the screen, a thriller that not only follows the killers but the detectives tracking them as well. Although this story has been filmed before, previous versions focused only on the killers, neither
The Honeymoon Killers
nor
Deep Crimson
had the same insight that
Lonely Hearts
has in respect to the story of the detectives. Todd Robinson is the grandson of Detective Elmer Robinson.
Todd Robinson says, "These stories have been kicking around my family for years, my Grandfather was usually very quiet but when he told stories he was a great storyteller. The stories were usually grim but always had a bit of humor. He would tell stories about scams and scams that led to murder like in the case of Martha Beck and Raymond Fernandez. He told me about when he found the crime scene, they pulled up the floorboards and underneath the wood everything was covered in blood. He immediately knew someone was murdered there, though there was no body"
Principal Photography commenced in the spring of 2005 in Jacksonville, Florida where it was filmed for 32 days at over 78 locations. The powerful supporting cast includes
Scott Caan
,
Alice Krige
and
Laura Dern
.
Revisiting the Past
Accomplished Emmy Award winning screenwriter and director Todd Robinson was seeking material for his next project and it wasn't until a call from a producer friend that his inspiration presented itself to him. Todd Robinson says, "A producer pitched a true crime idea to me and sent me the
Encyclopedia of Serial Killers
as a reference book for research, while looking at it I came across Martha Beck and Raymond Fernandez." Childhood memories of his Grandfathers stories about the killers shot through his head, so given the connection that director Robinson had with this famous case he knew that this story should be the focus of his next film.
After completing the screenplay and subsequently shopping the project around along with family photos and visual aides in the form of books about the 40's and 50's, Todd Robinson saw John Travolta as the clear choice for the lead role of the film. Todd Robinson adds, "John was always my first choice, I waited over a year to get him because he's that good." Needless to say Travolta has a hectic schedule so after reading the script and meeting with Todd Robinson he was interested in taking the role though he had obligations that tied his schedule up for the next year. Todd Robinson met over 400 actors who were vying for the role but in his mind kept going back to Travolta.
Travolta says, "When the script was submitted to me, it had a note attached the James Gandolfini would do it if I was the lead. That made me seriously consider it because I'm very fond of Gandolfini and when I read the script I liked it a lot." Travolta and Gandolfini have appeared on screen a few times before in A Civil Action, Get Shorty and She's So Lovely.
When preparing for his role Travolta was a little unnerved by the lack of dialog he then slowly took on the many layers of Detective Elmer Robinson. Todd Robinson adds, "His performance is very subtle, a lot of his performance is in his eyes, you look at him and you know what he's thinking, Great performances are like a blank canvas you claim them as your own and project your life experiences onto the character."
Travolta says, "It's interesting after Pulp Fiction, every script I would get was very dialog heavy with several 5 page monologues.
Lonely Hearts
was a challenge because it was the opposite. I had very little dialog. I built the character by adding layers of suppressed emotion."
James Gandolfini was cast next as Detective Robinson's partner Charles Hilderbrandt, a pivotal part and not just your average partner role. Hilderbrandt held the investigation together, backing Elmer Robinson up at every turn up until the end. Gandolfini was perfectly cast opposite Travolta and also lends his voice to the narration of the film. "When you first meet him he's every bit as intimidating as Tony Soprano but as you talk to him you realize what a nice guy he is," adds Todd Robinson
Raymond Fernandez and Martha Beck were difficult characters to cast due to the ugliness of their deeds. Jared Leto auditioned but initially was passed over by Todd Robinson who wasn't sure Leto's considerable talents were right for such a role. After perusing then winning the role and after going through a subsequent physical transformation Todd Robinson was surely convinced. Coincidentally Leto's next role is as
John Lennon
's killer Mark David Chapman in
Chapter 27
. Possibly the biggest casting challenge was for the role of Beck, in reality she was an overweight, unhappy nurse who met Fernandez by being a target of one of his scams. Salma Hayek is no stranger to a complete makeover; previously she played
Frida Kahlo
for which she was nominated for an Oscar in
Frida
. Todd Robinson states, "Beck was far more destructive than Fernandez, she was a product of incest and was committed to not letting anyone come between them."
-
More On 'Lonely Hearts'