John Stamos, Michael Rapaport & Tika Sumpter Talk 'My Man Is A Loser'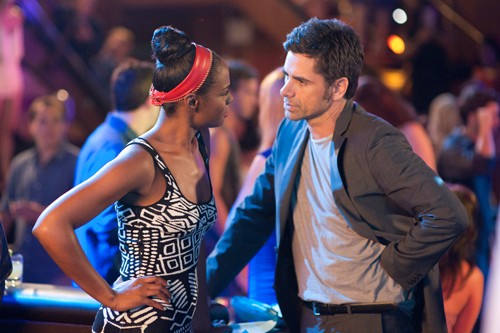 Starpulse recently got a chance to visit the set of upcoming film "My Man Is A Loser" on location in New York City, and stars John Stamos, Michael Rappaport, and Tika Sumpter took time out to gush about the project (and each other).

"My Man Is A Loser" centers on married men Marty and Paul (Rapaport and Bryan Callen) who ask their single playboy friend (Stamos) to help them get their mojo back in an attempt to save their lackluster marriages. Things start to backfire almost immediately, leaving their wives wondering if the new versions of their husbands are worse than the old ones.
"Uncle Jesse - it's great to work with him," Sumpter said of her co-star Stamos, who doesn't mind the "Full House" references, even 17 years after the show ended.

Sumpter plays Stamos' girlfriend Clarissa. As for getting up close and person with Stamos, she said: "I get to kiss him, and he is everything you could want. And he is just charming...how can you not like him? Everybody loves him. He knows everybody and he has been in this business forever and he is a good kisser. Yea."

Making the film also made the actors crack up on and off the set.

"These guys are so funny - like Michael Rapaport he's hilarious," Sumpter explained. "There's a cuddling scene where John and I are teaching them how to be better husbands and cuddle techniques...John and Michael Rapaport cuddle at one point and then Bryan Callen and I cuddle."

Rapaport said about the scene, "Oh yea that was fun, you know everybody wants to cuddle with John Stamos."
The film promises several laugh-out-loud moments, including a bar scene where Marty and Paul are required to remember conversations they have with two young women. "There is a funny scene in a bar with these young girls who are trying to play sort of a listening game - you know these 40-year-old guys trying to listen to 21, 22 -year-old girls sort of babble on and then recite what they said. That was to me a lot of fun," Rapaport said.
Stamos plays playboy Mike in "My Man Is A Loser," but despite being one on screen, he says it's not who he is in real life. "You don't want to disappoint people, you want to be this guy that people think - and I am not. You know I have been in New York five weeks now and I have gone to bed by myself," he laughed.
Stamos decided to take the role because he could relate to the story. "It is one of those deals where you think, 'This guy has all this stuff going on,' but when you pull the curtain behind him he is really just as lonely and insecure as everybody else. So that's why I wanted to do it."
Step One of Many Entertainment's "My Man Is A Loser" is set for release in 2013.