John Rich Kicked Off Plane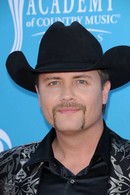 Country star John Rich is at the center of an airport controversy after he was reportedly asked to leave a plane in Las Vegas on Sunday.

TMZ.com reports the Big & Rich star was escorted off a Southwest flight to Tennessee after getting into a verbal argument with several passengers.

A representative for Southwest has confirmed a passenger was kicked off the flight, but would not release the person's name.

The rep says, "Our crew assessed the situation and determined that the passenger was not fit for travel under governing federal aviation regulations.

"The customer was re-booked on a later Southwest flight out of Las Vegas, but chose to make alternative travel arrangements. We have processed a refund for the customer and his travel companion."

Rich has yet to release a statement about the incident.