John Mellencamp's Teen Son Gave Him A Black Eye: 'He Got A Punch In And I Didn't'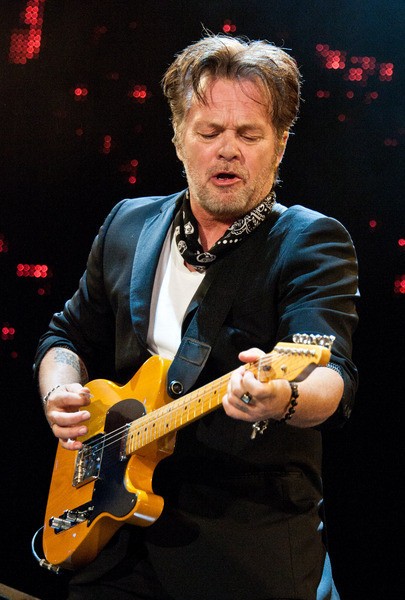 John Mellencamp made an appearance on Wednesday night's Late Show With David Letterman sporting a black eye -- something he received during a bust-up with his teenage son.

The singer guested on Letterman's show along with horror novelist Stephen King to promote their new collaboration, stage musical "Ghost Brothers of Darkland County," for which King wrote the story and Mellencamp wrote the music.

Letterman joked about the singer's shiner, asking, "Was there trouble backstage because you look like you have a [black eye]?".

King jumped in, saying,"The collaboration is not always easy!" before Mellencamp explained the injury to his left eye.

"My son and I had words and he got a punch in and I didn't. (He's) 18. He's 6'2 and weighs almost 200 pounds," Mellencamp said. "My son punches me and my dad calls me and says, 'John, you need to change your attitude.'"

The singer didn't reveal which one of his sons left him bruised.

King and Mellencamp's musical is scheduled to hit the road in late 2013. Taking place in Mississippi in 1967, the story follows a father and his two teenage sons to a family cabin where his two older brothers had killed each other years before.

Here's the official synopsis from Playbill.com: "In the tiny town of Lake Belle Reve, Mississippi in 1967, a terrible tragedy took the lives of two brothers and a beautiful young girl. During the next forty years, the events of that night became the stuff of local legend. But legend is often just another word for lie. Joe McCandless knows what really happened; he saw it all. The question is whether or not he can bring himself to tell the truth in time to save his own troubled sons, and whether the ghosts left behind by an act of violence will help him – or tear the McCandless family apart forever."

Check out more video from the interview below...