John McVie Returns To Fleetwood Mac After Health Scare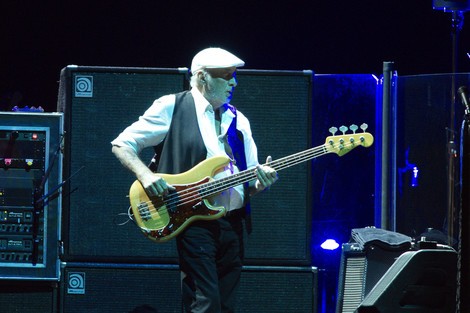 On Monday night, Fleetwood Mac returned to the stage with John McVie for the first time since the bass player's cancer diagnosis.

The 68 year-old musician's health scare prompted the band to cancel a tour of Australia and New Zealand, but he returned to the stage with the group on Monday for a special end of year show in Las Vegas.

The public performance at the MGM Grand Garden Arena will be followed by a private concert on New Year's Eve.

Speaking before the first show, Stevie Nicks told ABC News Radio that the shows will be "really good for John" so he can "get back on the treadmill" after undergoing treatment for cancer.

During the concert, Nicks thrilled a pair of famous fans in the audience by dedicated the band's song Landslide to John Mayer and Katy Perry.

Mayer was so thrilled about the shout out, he grabbed his girlfriend's cell phone and updated her Twitter account, writing, "John here. Katy can't write because she's getting over Stevie Nicks dedicating Landslide to us at the Fleetwood Mac concert. Unforgettable..."

"While I'm at it I have a couple things I'd like to get off my - oh, she's motioning for the phone back. Gotta go!! -JM."