John Lehr Brings Improvised Comedy Back With Hulu's 'Quick Draw'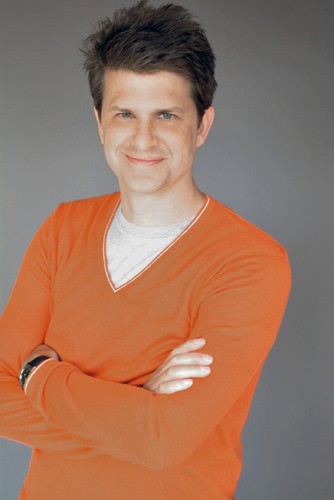 The improvised comedy on TV is a beautiful but rare thing: few shows can pull off the format, and they don't seem to last very long, much to our dismay. Thankfully, John Lehr is bringing the concept back with his new Hulu series Quick Draw, a comedic Western where all the dialogue is made up and the stories are intermixed with real history. BFTV talked with John last week to find out what the heck he was thinking, and if he's still recognized for being one of the infamous GEICO Cavemen.
"My partner Nancy Hower, who I created the show with and she directs all the episodes, we had been wanting to do a Western for a long time," said John, who stars in Quick Draw as the main character, Sheriff John Henry Hoyle. "We had talked about maybe writing a feature. We're big Blazing Saddles fans, but other than Blazing Saddles, not a lot of comedy western mash-ups. Taking real facts from the 1800's and mixing that with some outrageous comedy just seemed like a really fun idea."
So just what the heck is an improvised comedy, anyway? John explained: "Our process is really interesting. Nancy and I write really detailed scripts, but we don't write any dialogue at all - and the actors in the show never see the script. All the dialogue you see is completely improvised. These actors are making up their lines on the spot. In that way, it's a little like a reality show."
"There's a reason we improvise," he continued. "The reason we improvise is when you're with your friends and you're hanging out with them, and one of your friends says something super-funny, if I get you guys to repeat it the next day, it wouldn't be as funny. There is a certain type of humor that happens very spontaneously, and that's the humor we're trying to get."
Improvised comedies have been fairly rare on television, and often short-lived, but always hilarious. Bravo aired an improvised sitcom called Significant Others, focusing on four differing couples in and out of therapy, that lasted twelve episodes in 2004. One of the stars of that show, Fred Goss, brought the format to ABC in 2006 with his family comedy Sons & Daughters, which included a pre-Dexter Desmond Harrington in its cast. The most successful show to use the concept is, of course, HBO's Curb Your Enthusiasm, which has run eight seasons from 2000-2011 and has yet to officially conclude.
But Quick Draw differs from all those shows in that it also incorporates elements of actual Western history into its stories. Those true bits and pieces make for some of the best parts. Teasing the remainder of the season, John told us, "There are individual storylines of episodes which I think are really great. We deal with this actually true family of murderers called the Benders. They may have been the first serial killers. And you might be thinking, how is that funny? I think it turned out really well.
"And then we have an episode coming up where Hoyle traces a crime to Nicodemus, which is an actual town that is in Kansas, which was populated entirely by free slaves. i think it's a really funny episode, I think it's also really interesting because it's true," he continued, adding that "I think the overall series arc of will Hoyle track down Cole Younger plays out really well in the final episode. You learn some things about the relationship between Hoyle and Cole that are pretty surprising, and I think hilarious."
Aside from making improvised Westerns, John is also known for writing, producing and starring in the TBS sitcom 10 Items or Less from 2006 to 2009, and as one of the leads of GEICO's wildly successful Cavemen advertising campaign, which started in 2004. Do people still ask him about playing one of the Cavemen? "Oh, God yes," he said with a laugh. "I just shot some stuff not too long ago, so it's still happening. Which is just unbelievable to me. I am so grateful to GEICO and that character. It's a total blast to do. It's like the ideal thing for an actor like me. I'm enormously popular, but because you don't see my face I'm free to play lots of other things. And they let me improvise quite a bit."
Ultimately, his main goal is the basic aim of comedy in general: to have a good time. "I'm really happy," he said, reflecting on his work on Quick Draw. "I love making it. What happens after, with how many people are going to watch it or if critics are going to love it, I don't have any control over that. I want people to like it, but it's not something I put a lot of time into. My job is just to make it, and the making of it is so much fun. It was a blast."
Quick Draw is new on Hulu every Monday; you can click here to view episodes anytime. You can also find out more about John by visiting his website (johnlehr.com) and following him on Twitter (@JohnLehr).
(c)2013 Brittany Frederick. Appears at Starpulse with permission. All rights reserved. No reproduction permitted. Visit my official website and follow me on Twitter at @tvbrittanyf.