John Leguizamo Exposes Steven Seagal As A Bully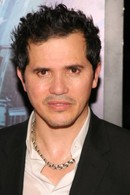 John Leguizamo has exposed his Executive Decision co-star Steven Seagal as an on-set bully after the martial arts star took offense to the Latino's mockery.

The Moulin Rouge! star admits he and Seagal hit it off all wrong upon their first meeting when the action man told his castmates he was "in command."

Leguizamo says, "He was supposed to be the master sergeant and I was right underneath him, his boy. We came to the first day of rehearsals and he goes, 'I'm in command...' and we laughed. I thought he was kidding. Who talks like that?

"He comes at me and elbows me... against a brick wall and knocks all the air out of me and I'm like, 'Why?'

"I really wanted to say how big and fat he is and how he runs like a girl, but I couldn't because I didn't have enough air."

Leguizamo has been poking fun at Seagal ever since in his comedy routines - and now he's a marked man.

He explains, "He let my publicist know that if he sees me on a red carpet he's gonna punch me out. I'm not worried about it. You haven't seen him on the red carpet for a while."