John Legend's New Video Features Wife Chrissy Teigen Topless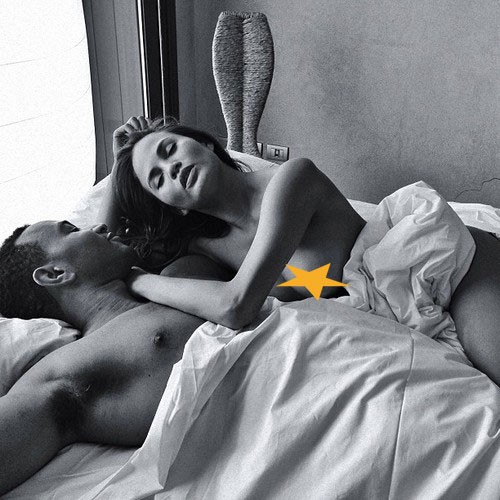 A new photo from the set of John Legend's video shoot for his single "All Of Me" was released on Tumblr.com on Thursday, showing the singer lying naked in bed with fiance Chrissy Teigen.

The Sports Illustrated swimsuit model is also nude, and the photograher, Nabil Elderkin, just happened to snap the photo while one of Chrissy's breasts were exposed.

Nabil posted the image to his Tumblr page and tweeted a link to it, writing, "On set with @johnlegend and @chrissyteigen for ALL OF ME video shoot."

Teigen, having no problem with the image, retweeted the photographer's post, writing, "I figure you can't be suspended from a retweet."

The couple appear ready to give fans a glimpse into their life behind closed doors in the video, but the black-and-white photo has caused a stir, prompting Teigen to write, "Literally everyone has a nipple. Get over it. #nipple #get #over #it #getoverit."

Legend even retweeted the shot, which is still live on Nabil's Tumbler page (see it here), writing, "'Love your curves and all your edges.' Pic from the video shoot (slightly NSFW)."

Nabil thanked the couple for being okay with the photo after the shoot, posting another shot and the message, "That's a wrizzzapppp! Thank you @chrissyteigen and @johnlegend for being troopers!!"
Elderkin directed the video for Legend's 2007 single, "P.D.A. (We Just Don't Care)."