John Krasinski & Emily Blunt Release Adorable Photo Of Daughter Hazel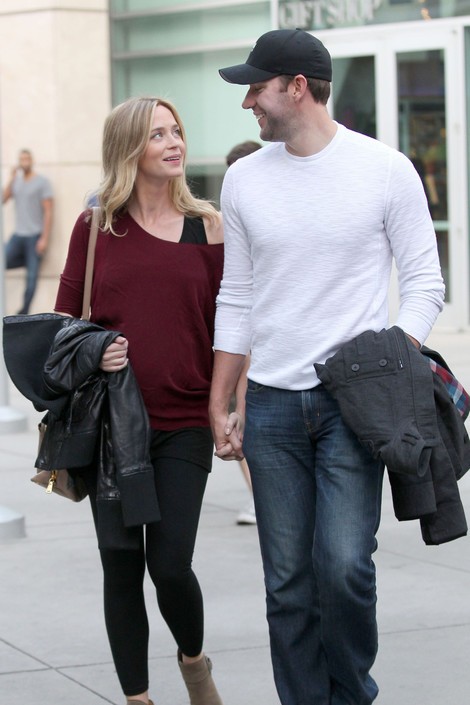 Actors John Krasinski and Emily Blunt have released the first image of their 3-month-old daughter Hazel. Krasinski, 34, posted the photo on Twitter, which shows the infant lying on her side with one arm stretched out behind her head and a yellow pacifier next to her.
He captioned it: "Pics of kids should only come direct from parents. So I'm thrilled to introduce you guys to Hazel!!! #NoKidsPolicy."
Actress Kristen Bell spearheaded the "No Kids Policy" campaign to keep the paparazzi away from celebrities' children, and several stars have signed on to help Bell and her husband Dax Shepard raise awareness about their campaign, which calls for a boycott of tabloids that purchas unapproved photos of stars and their kids.
Blunt and Krasinski wed in 2010 after two years of dating. Blunt, 31, has previously said that she would like to have more children: "We're both from big families, so I think it's something we want."
The pair recently bought a Hollywood Hills mansion for $2.75 million. According to E! News, the estate includes four bedrooms, three bathrooms and is located on a double 37-acre lot with a pool.
Blunt stars in the upcoming action thriller "Edge of Tomorrow" opposite Tom Cruise about an alien race that invades earth.
Krasinski is currently shooting Khalil Gibran's upcoming movie 'The Prophet' alongside Liam Neeson and Salma Hayek.
Pics of kids should only come direct from parents. So I'm thrilled to introduce you guys to Hazel!!! #NoKidsPolicy pic.twitter.com/qVvUTRdllP

— John Krasinski (@johnkrasinski) May 13, 2014